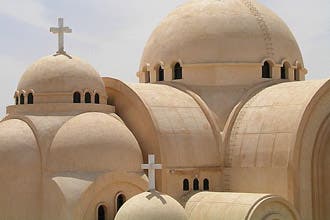 Egypt allows re-conversion to Christianity on ID
Landmark ruling opens door for hundreds: lawyer
In a landmark ruling, an Egyptian court on Saturday authorized 12 converts to Islam who then reverted to Christianity to have their original faith marked on their ID cards, judicial sources said.

They said the court allowed the Coptic plaintiffs to mark "Christian" on their compulsory identity cards, in place of the "Muslim" mention which was used after their conversion.

But their IDs will have to specify that they had "adopted Islam for a brief period", the sources said.
The court of administrative justice ruled that the mention would "prevent any manipulation or concealment with judicial or social consequences" following the conversion to Islam.

"This is an historic decision, a victory for freedom of religion in Egypt and in keeping with Article 46 of the constitution which calls for freedom of religion," the plaintiff's lawyer Ramses al-Naggar told AFP.

The verdict was greeted with applause among the plaintiffs and their lawyers and other Coptic onlookers in the courtroom, many of whom cried out, "Long live justice."

"This opens the door of hope to hundreds of Copts who converted ... and were then unable to return," said Mamdouh Nakhla, a human rights lawyer.

Nakhla said there were around 450 similar cases currently in litigation, and that estimates of the number of people who wished to revert to Christianity from Islam ranged to up to several thousand.

The court ruling, which cannot be appealed, overturned a lower court decision in April which said the state had no obligation to recognize a convert to Islam's decision to revert back to his original faith because it violated Islam's ban on apostasy.

The higher court's decision now obliges Egypt's ministry of interior to issue the plaintiffs with birth certificates and identity papers identifying them as Christians.

"I have won my identity back. I am alive again," said Yasser Helmi, a 27-year-old man among the plaintiffs. "I couldn't get an identity card and my life had ground to a halt."

Helmi said his father had converted to Islam, without the knowledge of his wife and son who was a child at the time.

In Egypt, Copts who represent six to 10 percent of the 76-million population are known to convert to escape the strict rules of their church which bans divorce or marriage to a Muslim woman.

A lower court had previously refused to take up the case, which was opposed by the Egyptian government.

Saturday's ruling comes less than two weeks after a court for the first time granted members of Egypt's tiny Baha'i community the right to obtain government identity papers -- largely denied them for several years -- as long as they omit their faith, since it is not officially recognized in Egypt.

Without the official ID cards, Egyptians can not apply for jobs, buy property, open bank accounts or register their children in schools. They are also subject to arrest for not carrying valid identity papers.