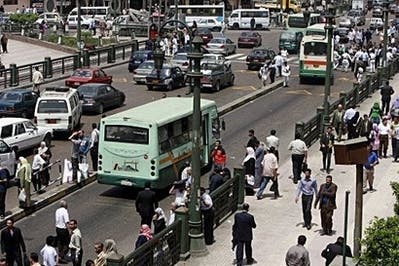 Egypt raises prices amid public anger
Prices hiked to pay for promised wage increase
Egypt's parliament on Monday voted in favor of a set of tax and duty increases including on fuel, diesel and cigarettes amid public anger at price hikes and the state of the economy.

Tax breaks will be removed from private schools and educational institutions, while vehicle license fees will also see a sharp rise especially for large capacity engines.

Around 120 opposition and independent MPs, including those representing the Muslim Brotherhood, voted against the proposal.
Parliament spent Monday discussing the proposal which is aimed at covering the 12.5-billion pound (2.3-billion dollar) cost of a rise in public sector salaries promised by President Hosni Mubarak.

Mubarak vowed last Wednesday to raise public sector salaries by 30 percent to combat rises in food prices.

Speaking to parliament, Prime Minister Ahmed Nazif said the new measures were aimed at "taking money from the rich and giving it to the poor."

In recent months, Egypt has seen a number of strikes and demonstrations against low salaries and price rises.

Egypt is also in the grip of a serious bread crisis brought on by a combination of the rising cost of wheat on world markets and sky-rocketing inflation.

A day of nationwide action called for April 6 saw riots erupt in the Nile Delta industrial city of Mahalla in which three people were killed after demonstrators pulled down posters of Mubarak.
TV boss charged
Meanwhile an Egyptian television agency boss was charged by a Cairo court over helping to broadcast images of protesters tearing down portraits of President Hosni Mubarak during deadly food riots in April.

Nader Gohar, who owns the Cairo News Company, was charged with not having a license to provide satellite feed facilities to foreign channels following a complaint by the Egyptian Radio and Television Union, a judicial official told AFP.

Gohar, who is currently in Paris, said Monday he has been falsely accused of the broadcasting breach, which carries a maximum penalty of five years' imprisonment.

Three civilians were killed by police during two days of rioting in the Nile Delta industrial city of Mahalla on April 6-7.

Demonstrations called to protest rising food prices turned violent when police used rubber-coated bullets and tear-gas on protesters who tore down billboard images of Mubarak.

Footage of the posters being torn down -- a crime against the president under Egyptian law -- and the subsequent violence could be seen on many television stations and on the Internet.

The court, which ordered Gohar's arrest ahead of the next hearing on May 26, has already ordered the agency's offices searched and impounded five satellite dishes used for broadcasting and a vehicle.