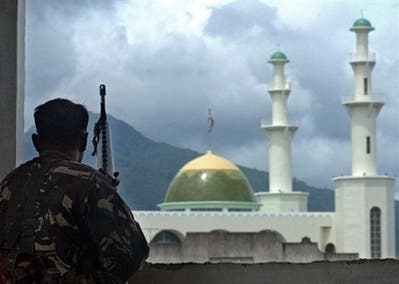 Philippine Supreme Court halts Muslim land deal
Muslim autonomous region would have been expanded
The Philippines Supreme Court issued a temporary restraining order on Monday to halt a territorial deal between the government and Muslim separatists, the latest setback for peace in the nation's volatile south.

The agreement between Manila and the Moro Islamic Liberation Front (MILF), the country's largest Muslim rebel group, was to be signed in Kuala Lumpur on Tuesday after more than 10 years of stop-start talks.

Catholic politicians in the south had asked the Supreme Court to halt the signing ceremony, arguing they had not been consulted on the deal. They fear it will carve up the southern island of Mindanao into Muslim enclaves.
Manila, whose commitment to a permanent political solution for the south has sometimes been questioned, said it welcomed the court's move.

"I feel this is a relief," said Jesus Dureza, spokesman for President Gloria Macapagal Arroyo. "It's a good opportunity for some issues to be thrashed out."

Malaysia, which has been brokering the talks between the two sides, expressed regret over the move.

"It's a big disappointment," said a Malaysian government source familiar with the talks. "I pity the people in Mindanao."

Philippine Foreign Minister Alberto Romulo, who was due to witness the signing, flew into Kuala Lumpur as scheduled.

With the signing set to be cancelled, Romulo would instead hold talks with his Malaysian counterpart, Rais Yatim, an official said.
Muslim autonomous region
The deal was meant to formally re-open peace talks to end a near 40-year conflict that has killed more than 120,000 people, displaced 2 million, and kept the most resource-rich region of the country dirt poor.

Under the territorial agreement, an existing autonomous region for Muslims in the south of the largely Catholic country would be widened and they would get broad political and economic powers.

But the agreement's hasty conclusion on the eve of President Arroyo's annual state speech last month and its generous provisions to the MILF on mineral wealth prompted some analysts to dismiss it as political window dressing.

"I think it was all teed up as a bone on the eve of Arroyo's state of the nation address. I think it was strictly done for that purpose," said Scott Harrison, managing director of risk consultancy Pacific Strategies and Assessments.

MILF officials, already in Malaysia for the signing ceremony, were dismayed at the Supreme Court move.

"I don't know what will happen next," Mohaqher Iqbal, the MILF's chief peace negotiator, told Reuters.

The Supreme Court has asked both sides to present their cases on Aug. 15.

Camilo Montesa, lawyer and a consultant for the Institute for Autonomy and Governance at the Notre Dame University on the southern island of Mindanao, said the delay was bad for Arroyo.

"The government loses its face in the eyes of the international community," said Montesa.