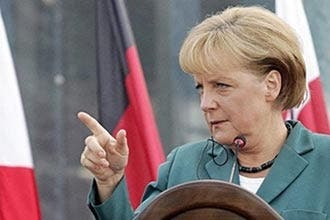 Georgia to become NATO member: Merkel
Russian forces start Georgia pullout: commander
German Chancellor Angela Merkel said Sunday in the Georgian capital that the ex-Soviet republic, currently mired in conflict with Russia, will join NATO.

"Georgia will become a member of NATO if it wants to -- and it does want to," she said before talks with President Mikheil Saakashvili in Tbilisi.

It was one of the strongest statements yet of support for Georgia's NATO membership bid, which is fiercely opposed by Russia.

Merkel was in Tbilisi to support Saakashvili and press for the withdrawal of Russian troops who attacked Georgia on April 8 to repulse an offensive by Georgian troops against a Moscow-backed separatist region.

Moscow is furious at Georgia's attempt to join NATO. The Western military alliance is divided over how fast to accept Georgia, but has indicated that membership is a matter of when, not if.
Russian withdrawal
The Russian commander on the frontline said on Sunday that Russian forces started to pull out of Georgia, as analysts started calculating mounting Georgian losses of the uneven conflict.

"The columns are moving from Tskhinvali to Russia," Major-General Vyachislav Borisov told Reuters near the central Georgian town of Gori. "(Russian President Dmitry) Medvedev has said we are to withdraw."

"You must understand there are a large amount of troops," he said.

A Reuters correspondent saw fewer soldiers than normal at the main Russian checkpoint outside Gori. A Georgian official said the Russian soldiers had not withdrawn but had instead redeployed in the area.
Georgian consequences
Analysts, meanwhile, started to question Georgian President Mikheil Saakashvili's decision last week to send troops into the breakaway region of South Ossetia and to calculate the consequences.

"Nobody thought it would ever go this far," Tornike Sharashenidze, a Tbilisi-based political analyst, told AFP. "Nobody expected they would bomb targets across Georgia and occupy half the country."

Saakashvili's decision has not only left the country in deep crisis, analysts said, but also cost Georgia key footholds in South Ossetia and another rebel region, Abkhazia.

It may even have dashed any hopes of Georgia regaining control over its entire territory.

It remains unclear how much territory Georgia stands to lose from the conflict. Russian forces remain in control of swathes of the country, despite a ceasefire agreement signed by Russian President Dmitry Medvedev on Saturday.

Analysts said the vague wording of the agreement -- which allows Russia to take additional "security measures" in Georgia -- could give Russia an excuse to remain deep in Georgian territory.