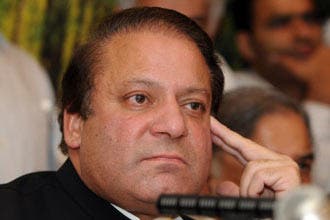 Pakistan's Sharif quits one week after Musharraf
Coalition split over disputes on sacked judges, new president
Pakistan's ruling coalition split Monday after former premier Nawaz Sharif withdrew over differences on the restoration of judges sacked by ex-president Pervez Musharraf.

The political showdown came two weeks before lawmakers were to choose a new president following the resignation of Musharraf one week ago and as Pakistan tries to keep a lid on Islamic militants from the Taliban and Al-Qaeda.

"We have decided to quit the coalition and sit on the opposition benches in parliament," Sharif told a news conference following a meeting of his Pakistan Muslim League-N (PML-N) -- which was the second largest party in the coalition.
"We have taken this decision after we failed to find any ray of hope and none of the commitments made to us were fulfilled" by Asif Ali Zardari, head of the Pakistan People's Party (PPP), Sharif said.

"This situation forced us to withdraw our support."

Sharif had set a Monday deadline for some 60 judges to be reinstated, but Zardari's party -- the largest in the coalition -- had refused to give a time frame on when that would happen.

Musharraf sacked the judges last year under emergency rule to ensure there would be no legal challenges to his re-election as president while holding the dual role as head of the powerful military.

Critics say the PPP may not want to restore the judges out of fear that they could overturn an amnesty on corruption charges that allowed Zardari to return to Pakistan last year.

Zardari's party had refused to give a time frame on when the judges would get their jobs back.

Sharif accused Zardari, who took over the PPP after his wife and former premier Benazir Bhutto was assassinated in December, of repeatedly breaking promises over reinstating the judges.

"The PPP also violated the latest agreement reached earlier this month that the judges will be restored 24 hours after the resignation of Musharraf," he said.

The U.S.-backed Musharraf resigned amid growing pressure from the coalition, which said it would attempt to impeach him.

Sharif vowed to continue the "struggle for restoration of the judges and genuine democracy in Pakistan" and said his party had chosen a retired Supreme Court chief justice to challenge Zardari in the September 6 presidential poll.

"We have requested Saeed uz Zaman Siddiqui to accept our offer to become presidential candidate," Sharif said. "He is a good Pakistani who is a non-partisan person."

The PPP had earlier said that Sharif's party should look towards other issues faced by the majority of Pakistanis, rather than pressing for the return of the judges.

The PPP has enough allies in parliament to hold the government together, but analysts say governing in the long term would be difficult with Sharif in the opposition.