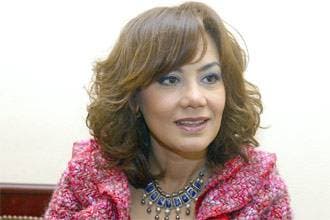 Egyptian presenter accused of descrating mosque
Co-founder of the "Shayfeen" popular movement
The Egyptian prosecution is interrogating activist and host of an advice show on Orbit TV and Egyptian radio for allegedly deriding religion and desecrating a mosque.

The incident revolves around a dispute between Buthaina Kamel, a popular presenter and co-founder of an anti-corruption movement in Egypt, and her landlord.

The conflict began when a spare-parts dealer bought a historic building in downtown Cairo and removed its garden to build a shopping mall in its place. The dealer's plans were met by opposition from the building's residents, among who were Kamel and her husband, university professor Emad Abou-Ghazi.


Political motivations?
To avoid confrontation with the residents, most of who are Christians, the new owner put a prayer rug in the disputed building and put a sign outside that said "Mosque inside."

According to the complaint lodged against her, Kamel entered the mosque with her shoes on. The files also labeled Kamel a "communist" and an "atheist."

"They did that to turn religious people against us," Kamel told AlArabiya.net.
"I never thought things will go that far. Now the victim is the criminal, and the authorities are not taking any action."

Kamel is the co-founder of the anti-corruption movement Shayfeen (Arabic for "We can see") and a member of the Egyptian Movement for Change, nicknamed Kefaya (Arabic for "Enough"), and took part in the campaign for the independence of the judiciary. She also made many documentaries about assaulting judges, election rigging, and the imprisonment of journalists.

Kamel has also participated in seminars opposing the transfer of power to the president's son, Gamal Mubarak, which made her the target of a hostile campaign by official newspapers.

Kamel said that the only crime she committed was trying to protect a historic part of downtown Cairo. But, she said, the owner turned out to have connections. "The Minister of Environment, the head of Cairo State Security, and the Governor of Cairo couldn't do anything. I wonder who's protecting him?"

Kamel added that the new owner put a picture of the Egyptian president on the building as if he were "sending us a message."

"Then his men started harassing us and filing complaints that we throw garbage on the people who come to pray at the mosque," said Kamel.

Kamel told AlArabiya.net that she has been the talk of the town because of the allegations. She said some people even warned her that an attempt could be made on her life, especially if official newspapers added fuel to the fire given the government's previous hostility to Kamel's political activism and her attempts to expose state corruption.

(Translated from Arabic by Sonia Farid)