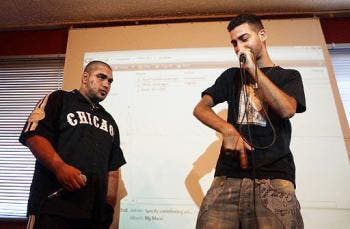 Lebanon refugee camp inspires Palestinian rap
'Invincible Voice' sing of violence, hardship
Teenage rappers Yassim Kassem and Mohammed Turek have no qualms about upsetting politicians or clerics when they sing of inter-Palestinian violence and the daily hardship of life in the refugee camps.

They call themselves I-Voice -- Invincible Voice -- and are among a number of rap groups to have emerged from impoverished Palestinian camps in Lebanon and from the Israeli-occupied Palestinian territories.

Turek, 18, and Kassem, 19, really rocked the boat with a song called "Inkilab" (Revolution) which criticized inter-Palestinian fighting and divisions and the way various factions are handling the Palestinian cause.

"We got told by many (political parties) to stop and sort of got threatened about singing one song in particular," said Kassem about Inkilab. "We just said 'yes' and kept on singing it."
Waking people up with music
Inkilab slams the main Palestinian political factions for losing sight of the cause and also for what the duo says is gang-like behavior.

"The solution for the liberation of Palestine is civil war," go the lyrics. "The medal of honor goes to conspiracies that made our lives disgusting."

The rappers have also had run-ins with organized religion. One cleric warned people not to listen to them during a sermon at weekly Friday prayers in the northern refugee camp of Nahr al-Bared, after the pair staged a concert there.

"I laughed," said Kassem. "Here I am trying to wake people up, make them aware and drag them away from the superficial and they accuse me of forcing them to do bad things!"

The pair recorded their first album in August last year in a makeshift studio in a narrow alleyway in Beirut's overcrowded Burj al-Barajneh refugee camp.

"The harder the life you live, the more you love hip hop," said Kassem.

As Kassem and Turek write and record their music in the tiny studio with walls and ceilings covered with grey sponge soundproofing, they contemplate the poverty that surrounds them.

Palestinians are banned from 25 professions in Lebanon and many face difficulties finding a job.
Record deal and other high hopes
The harsh living conditions inside Burj al-Barajneh camp are plain to see. Sewage floats down alleyways, many buildings have tin roofs and exposed electric cabling drapes walls and hangs between streets.

"Everyone sings about something. They talk about the camps and how they look and the suffering inside them," Kassem said. "We talk about problems too, but we also talk about solutions to those problems."

Other musical groups have emerged from the camp, including a five-person hip-hop group called Battalion 5, that sing about harsh conditions and disheartening political situation.

The rappers say the I-Voice message is one of unity.

"Arabs need to unite, because they face the same problems that are dividing their societies," Kassem said.

"Young people can change everything. Youth who are aware can make a real revolution happen and that's who we're talking to."

They say they were influenced by many artists, ranging from slain rapper Tupaq Shakur to underground rapper Immortal Technique, Lebanese singer Marcel Khalife and Palestinian poet Mahmud Darwish who died last month.

The duo hope to link up one day with DAM, a rap group hailing from the Israeli-occupied West Bank who recently featured in a documentary that was screened in Lebanon's camps called "Slingshot Hip Hop."

"We are laying down our vocals to send to them. We can't go to Palestine and they can't come here," said Kassem. "We might meet in Belgium for a joint concert, though."

With an expanding fan base, Kassem and Turek have signed deals with record companies in Jordan and Belgium. But despite their growing success, the rappers remain proud of their roots and true to their cause.

"We called ourself Invincible Voice because we are the voice from the Palestinian camp that will not be silenced," said Kassem.

The sprawling Bourj al-Barajenah camp in southern Beirut is one of 12 overcrowded camps scattered across Lebanon that house over half of 400,000 registered Palestinian refugees.
Young people can change everything. Youth who are aware can make a real revolution happen and that's who we're talking to

Yassim Kassem, rapper