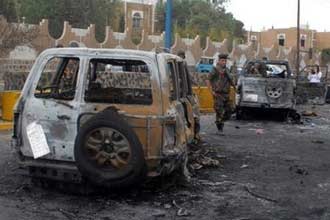 Yemen arrests six over US embassy attack
Sana is both a platform and target for Qaeda: analysts
Yemen said on Monday it is holding six key suspects over a deadly attack on the U.S. embassy last week, while analysts warn that Sana is increasingly becoming a platform for al-Qaeda due to a lack of state resources.

"Security services succeeded in arresting six people, of whom some belong to Islamic Jihad, linked to al-Qaeda and which claimed the attack," the interior ministry said in a statement.
"One of these people answers to the name of Abu Ghaith al-Yamani, who signed a statement claiming the attack," the ministry added.

It also announced the deaths of two people who were wounded in the September 17 attack, taking the death toll to 18. According to the U.S. State Department, one American woman died in the attack, along with her Yemeni husband.

The ministry said members of the cell had posted many statements on the Internet, sometimes in the name of Islamic Jihad and sometimes in the name of another group, "Committee of Virtue".

The group was behind threats against other foreign embassies in Sanaa, including those of Saudi Arabia, Britain, the United Arab Emirates and the Netherlands, it said.

In a statement last week signed by Yamani, a group calling itself Islamic Jihad said it was demanding the release from Yemeni prisons of its "detained brothers".

The ministry said a total of 50 people in all have been arrested over the attack, in which six assailants were killed.

On Saturday, security services stepped up protection around foreign embassies and in other parts of Yemen's capital following the attack, which was the second strike in six months on the U.S. mission.

In recent months Yemen has seen a series of attacks on security services and oil installations claimed by groups linked to al-Qaeda.
'Quality' operations
Yemen is no stranger to al-Qaeda, but security analysts say its real value to the network may be as a place to regroup and prepare for strikes elsewhere.

Security analysts say the sophistication of the recent attack, in which the assailants were disguised in military uniforms and cars, suggests al-Qaeda is gathering strength in a country that lacks the resources to crush militants, with a view to mounting attacks elsewhere in the world's biggest oil exporting region.

"No one should just sit back and watch what is happening in Yemen...I think we will witness more 'quality' operations and see the possibility that this will cross into other Gulf states," said Dubai-based analyst Mustafa Alani.

"We will see more links between the Yemen group and those in Pakistan or Afghanistan. Qaeda has suffered a lot in Iraq but if you push them down in one state they will appear elsewhere."

Situated on strategic shipping lanes and next to top oil exporter Saudi Arabia, Yemen faces a raft of problems -- a revolt in the north, discontent in the south and an influx of Somali refugees -- that raise red flags beyond its own borders.

Yemen's government joined the U.S.-led war against terrorism following the Sept. 11 attacks on U.S. cities in 2001. It has since jailed or killed dozens of suspected Islamist militants but, as a mountainous tribal country where government control is limited, it remains attractive to outlaws.

Abject poverty and poor education, coupled with a young and growing population, give al-Qaeda a ready source of recruits.

Some radical clerics are close to or tolerated by the Yemeni government in what remains a deeply conservative Muslim country.

Analysts say authorities had been willing to turn a blind eye to militants as long as they lay dormant, but have cracked down on al-Qaeda this year after it stepped up attacks in Yemen.
Unstable Yemen
The more unstable Yemen becomes, the more it will attract the very militants the United States wants it to keep at bay.

While Yemen has witnessed major al-Qaeda attacks including the 2000 bombing of the U.S. destroyer Cole, it was not until early this year that an offshoot calling itself al Qaeda in the South of the Arabian Peninsula went public. It began issuing statements and an e-magazine, "The Echoes of Epics".

A surge in smaller operations, including a mortar attack on the U.S. embassy that wounded 13 at a nearby school, have been claimed by the Yemen Soldiers Brigades faction. Wednesday's attack was claimed by Islamic Jihad, another al-Qaeda affiliate.

"It is not unusual for a number of names to be used because al-Qaeda wants to show that there are a number of groups working against the government and because it wants to mislead the security forces," Alani said.

The latest attack, in which gunmen planned to use their disguises to get inside the compound, was reminiscent of attacks in Saudi Arabia and Iraq.