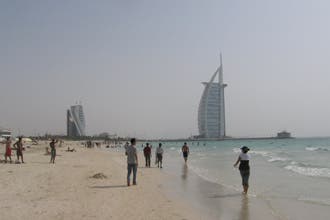 Dubai beach sex trial reflects cultural divide
Balancing Muslim identity with expat lifestyles
A recent beach sex trial in Dubai has exposed a growing cultural divide between native Muslims and Western residents seeking fun in the sun.

The story of a British pair facing possible jail terms on charges of having drunken sex on the beach made headlines around the world, but in Dubai, reports are frequent of hapless foreigners falling foul of local laws that strictly control drinking and ban homosexuality or kissing in public.

The British couple arrested on the beach had met at one of the many champagne brunches held in Dubai's top hotels. They now face possible jail terms when they return to court for the next hearing on Oct. 7.
Dubai's foreign population has expanded rapidly in recent years, dwarfing the native population, as the Gulf Arab trade and tourism hub tries to put itself on the international map with a promise of tax-free earnings and year-round sunshine.

But balancing its Muslim identity in a deeply conservative Gulf Arab region with the lifestyles of expatriates who comprise over 90 percent of its population is no mean feat.

The differences in the lifestyles of Dubai's divergent communities are visible all over the city. Muslims are banned from drinking; non-Muslims who carry the right license can buy alcohol from special shops, yet on weekends the beach bars and open air clubs heave with hard-drinking revelers.

Use of synthetic drugs like ecstasy is also rising in Gulf nations, according to a recent United Nations report.
Minority in own country
"Everybody who lives in this country, whether they are citizens or expats, can sense how massively difficult it is to be a minority in your own country and feel such pressure on your habits, your language, your religion," said Abdel-Khaleq Abdullah, an Emirati political scientist.

Residents from the Indian subcontinent, mainly laborers, almost certainly comprise the largest group in Dubai but the issue is so sensitive that the government of the United Arab Emirates did not release a breakdown of national origins in the results of its last census.

"We are at the point where we need to talk about this frankly," said Abdullah. "We feel that our identity and all its components are under threat. The fundamentals of the entire growth model need to be rethought to fit our demographic needs."

Dubai has nurtured an image as a glamorous, cosmopolitan city with ambitious projects such as the world's tallest tower, yet its 80,000 or so nationals feel their values are eclipsed.

Expatriates live and work on three-year visas, with little prospect of ever attaining citizenship or political say. Many Westerners work in free zones that are akin to economic enclaves and live in newly developed suburbs, rarely mixing with locals.

"Western behavior has become the norm and does not fit in with the culture of the indigenous population," said Durham University's Christopher Davidson, author of two books on the United Arab Emirates, which includes Dubai.
Western behavior has become the norm and does not fit in with the culture of the indigenous population

Durham Davidson
Ignorant of the laws
"The problem is that people are ignorant of the laws here," Hassan Mattar, the British pair's lawyer, told reporters. "This is an Islamic country."

Most countries, however, ban sex in public places. Many Muslim countries have laws proibiting public displays of affection.

Yet the more such cases make headlines outside the UAE, the more it raises concerns for Dubai's efforts to keep growing its economy and population.

The British man charged with having sex on the beach came to Dubai to start a business, abandoning his plans on his arrest.

"These cases are greatly damaging to Dubai's economy," said Durham University's Davidson. "They make people ask themselves 'why go to Dubai for a sun and beach holiday if you can get arrested for kissing?' Just go to Florida instead. There are so many alternatives."

Yet nationals who already feel like foreigners in their own city do not want Dubai rules relaxed.

If the law changed to suit Westerners, said one Emirati woman, it would be her who lost her freedom. She already forbids her daughters from going to Dubai's malls and hotels.

"It is up to the person who comes here to be informed," said the woman, who like most declined to be named on a topic which they feel is too sensitive to discuss in public.

"If there is an open trading system which draws people from all over the world, it is not fair to ask why they are not free. You have to follow the rules of wherever in the world you go."