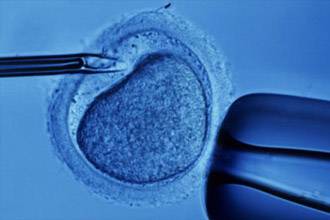 Artificial insemination booms in Bahrain
Declining fertility sparks controversy
The birthrate in Bahrain has skyrocketed over the past two years despite declining fertility rates, say doctors. The culprit? Artificial insemination.

Fertility assistance is a booming business in Bahrain that has attracted people from throughout the region, but has also caused concern among the country's healthcare professionals.

Doctors who worry that the trend in assisted conception may encourage the development of an illicit trade have called for regulating clinical fertilization. The Ministry of Health is currently debating a law to that effect.
Artificial insemination is relatively inexpensive in Bahrain, where the procedure costs 1,500 dinars [PUT $ EQUIVALENT] compared to 3,000 dinars or more in other Gulf countries. Bahrain's affordability has attracted people from throughout the Gulf, especially Saudi Arabia, with one hospital reporting that 20 percent of its patients were Saudi.

Doctors at the Sulaimania Medical Complex issued the warning because of concerns that the hospital's newborn intensive care unit could not accommodate all the new babies. The unit can only accommodate 25 babies, although the hospital is hoping to expand it.

Head of the Pediatric Division Dr. Ali Ibrahim told AlArabiya.net that there has been a remarkable increase in birth rates in the past 2 years and attributed that to the fact that many clinics resort to artificial insemination too soon.

"We're not against solving the problem," he said, "but there has to be deliberation and careful research about the reasons behind the delay of pregnancy before resorting to artificial insemination."

But gynecologist Samira Madan defended the choice of artificial insemination and considered Bahrain's procedure rates with the normal range.

"No one has the right to deprive a couple of having children. If there is no other way, then they should do it," she told AlArabiya.net.

Pediatrician Mona al-Jefiri lashed out at fertility clinics and accused them of not abiding by international standards. Jefiri told AlArabiya.net that sometimes doctors are pressured by patients who want children as quickly as possible.

"That is why doctors might violate those standards," he said.

But doctors in the business denied they felt pressured and said they abided by all mediacal and ethical standards. Gynecologist and manager of a fertility hospital Dr. Ahmed Barakat said that his work is not about money as much as it is about offering a humane service and helping people who wish to have children.

Barakat also warned that the fertility rate among Bahrainis is declining. "In the past, male infertility rate was 30%, but it started rising since the 1980," he told AlArabiya.net, "I am surprised that the sperm count for young men in their 20s is very low for their age."

Barakat attributed that to the environmental impact of the first and second Gulf wars in addition to the high rate of smoking among male youth and the increased usage of pesticides.

Bahrain has five fertility clinics, all run by the private sector. Around 500 operations are done every year with a success rate of 40-45 percent. Bahrain has been doing artificial insemination for 20 years, but the past 5 years witnessed an exceptional boom due to advanced technology and highly-skilled doctors.

(Translated from Arabic by Sonia Farid).