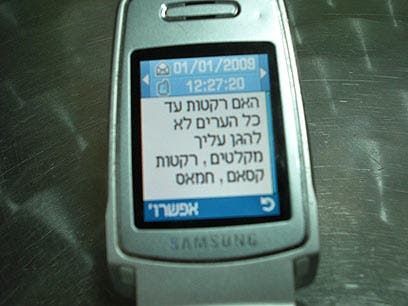 Israel intimidates Gazans via text messaging
Hamas threatens kidnappings on Israeli walkie talkies
Israel and Hamas have opened a new front in the two-week old war in Gaza, using text messages, phone calls and leaflets to intimidate and influence the other side.

Palestinians say they have been receiving daily phone calls and text messages from the Israeli army warning them against supporting Hamas and asking for information about the whereabouts of its members.

Hamas, in turn, said it has sent menacing text messages to Israeli mobile phones and jammed radio stations, according to a report over the weekend in the U.K.'s Guardian newspaper.
"The messages say that the Palestinian resistance missiles will reach you wherever you are and your government won't be able to protect you," Abu Mujaheid, spokesman for the Palestinian Resistance Committees, was quoted as saying.

According to Israeli Ynet news dozens of Israelis have received text messages in Hebrew that read: "Rockets on all cities, shelters not protect, Qassam rocket, Hamas.

Popular Resistance ommittees (PRC) Spokesman Abu Abir told the Israeli news website that the Palestinian organizations have a few surprises in store for the Israelis, and not just military-wise.

"Telephone messages and breaching the enemy's radio frequencies are just some of the surprises we have for the Israeli side. You will be very surprised by our military and technological capabilities," Abu Abir said.
Psychological warfare
While the Israeli army's phone calls scared Palestinians, many considered them an obvious indication of Israel's defeat and symptomatic of the confusion its political and military leadership faces.

The messages are a form of a psychological warfare that has been used since World War Two, said Hani Habib, a Gaza-based political analyst and expert on Israeli affairs.

"What Israel is doing is similar to the Nazi psychological propaganda at the time of Joseph Geobbels, Minister of Public Enlightenment and Propaganda in Nazi Germany," he said in a phone interview with AlArabiya.net. "This, for occupation forces, is more important than the actual war."

The Israeli army has targeted several Palestinian media installations including al-Aqsa TV and al-Resalah newspaper, which were destroyed by Israeli bombing on Dec. 28 and Jan. 3 respectively.

And prior to the launch of its massive ground offensive, the Israeli army confiscated the mobile phones of thousands of its soldiers, an official said, in an effort to keep the invasion a secret.

Hamas, for its part, said it has broadcast messages on Israeli military walkie talkies threatening to kidnap and kill Israeli soldiers. The army said it had no information on such transmissions.


What Israel is doing is similar to the Nazi psychological propaganda at the time of Joseph Geobbels, Minister of Public Enlightenment and Propaganda in Nazi Germany

Hani Habib
Dependant on propaganda
Habib explained that Israel depends on propaganda to crush the resistance. Israel first jammed local radio and TV broadcasts then attempted to influence public opinion and intimidate Palestinians through phone calls and text messages.

"Their purpose is to isolate the resistance," he added. "Israel has always used this strategy in previous wars."Israel used the same techniques, calling and sending text messages, during its 2006 war on Lebanon.

Suleiman Qadada, 40, said that someone from the Israeli army called him at midnight and warned him against cooperating with terrorist groups like Hamas. The voice, he said, sounded like a recorded message.

"I can't deny I was worried when I got his call," he told AlArabiya.net. "I'm afraid the next thing will be a call telling me they will bomb my house. Israeli missiles strike everything and we're all targeted."

Randa Sisalem, an Egyptian married to a Palestinian in Gaza, said the call she received, also at midnight, scared her.

"This is the Israeli army. We are informing you that we defeated Hamas and crushed them in Gaza," were the words Randa heard over the phone.

Mohamed Hamada got the same message but said it merely proved Israeli's defeat.

"We all know that Hamas did not sustain much damage in this war," he told AlArabiya.net. "Those who died and had their homes destroyed are mostly civilians."

According to the Guardian the Palestinian phone company, Paltel, has been phoning customers in Gaza to reassure them that they are not responsible for the Israeli calls.


(Translated from Arabic by Sonia Farid)
I'm afraid the next thing will be a call telling me they will bomb my house. Israeli missiles strike everything and we're all targeted

Suleiman Qadada