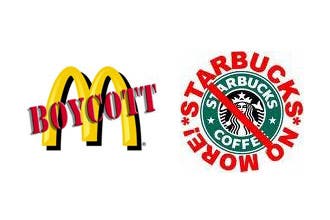 Rumors fuel calls for US boycott over Gaza
Targeted businesses deny alleged links to Israel
The rumors circulated via email, on social networking sites like Facebook and conspiracy websites: top American companies are donating profits to Israel in support of the war in Gaza and consumers should boycott them.

The online campaigns call for a boycott of several major U.S.-based companies like McDonalds, the coffee chain Starbucks, Pizza Hut and cigarette maker Phillip Morris, though most of the companies have explicitly denied the rumors on their websites and in interviews.

"Let's stop using American and British products for just one month. The U.S. will lose 8.6 billion daily if we stop using its products for only one month," read one email being circulated in Arabic. "As a true Muslim do that. Tell your family, friends, and neighbors and stop for one month."
"Let's do what our rulers could not do…. BOYCOTT" read another.

The Facebook group Boycott American Companies That Financially Support Israel! Free Palestine! Has more than 7,000 members hailing from the U.S., Arab world, Europe and Indonesia and Malaysia.

A search for the keywords "boycott Gaza" returned 45 groups in English, French and Arabic calling for a boycott of companies that allegedly support Israel's war on Gaza. Starbucks and McDonalds were among the most targeted.

"The messages about McDonald's giving its revenues to Israel until next Saturday do not originate from, and are not affiliated with, McDonald's. This is completely false and appears to be nothing more than a rumor or hoax," Tara Handy, senior manager of Corporate Media Relations for McDonald's said in a statement to AlArabiya.net.

On Saturday protesters in the French city of Nice smashed the windows of a McDonald's restaurant. On Friday protesters in Venezuela burned a U.S. flag in front of a McDonalds in the capital of Caracas.
Starbucks posted a statement on its website to combat the persistent rumors about the company and its CEO's support for Israel.

"Rumors that Starbucks Coffee Company and its management support Israel are unequivocally false. Starbucks is a non-political organization and we do not support any political causes anywhere in the world," it said.

Starbucks has sought to debunk rumors alleging a link between its CEO Howard Schultz and the Israeli Armed Forces as far back as 2006, though the rumor has resurfaced during the most recent conflict.

"Whenever there is tension in the region most U.S. headquartered organizations, they are targets," said Rana Shaheen, communications manager for Starbucks Middle East. "Along with Starbucks you have McDonalds, Coke, the list is never ending."
Whenever there is tension in the region most U.S. headquartered organizations, they are targets

Rana Shaheen, Starbucks Middle East
"These rumors may have originated because the CEO happens to be a Jew," she told AlArabiya.net, but underscored that Starbucks itself does not have a political agenda. "The political views of any employee at any level – and the chain of command is very long – has no bearing whatsoever on the company brand."

She noted that the heads of several major American companies happen to be Jewish so they become targets during periods of conflict.

Shaheen said Starbucks will be launching a Middle East website next month to help correct such disinformation campaigns.

A boycott of Danish products last year and in 2006 in retaliation for the publication of offensive cartoons dealt a significant blow to the profits companies with a significant presence in the Middle East.
Whether the proposed boycotts would have the intended economic effect on the U.S., however, was unclear, since as several companies pointed out they hire local workers and support the local economy.

"Given the local nature of our business, we believe that calls for boycotts of our products are not the appropriate way to further any causes, as they primarily hurt the local economy, local businesses and local citizens," Kadri Taib, Coca-Cola Malaysia public affairs and communications director, said in a statement.

In Malaysia a Muslim consumer group called Friday for a boycott of several U.S. companies including Coca-Cola.
Given the local nature of our business, we believe that calls for boycotts of our products are not the appropriate way to further any causes, as they primarily hurt the local economy, local businesses and local citizens

Kadri Taib, Coca-Cola Malaysia