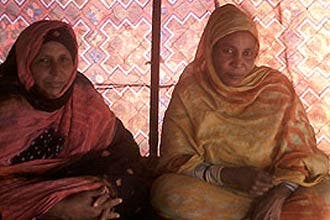 Young Mauritanians reject forced fattening
Large body size long seen beauty criterion
The traditional practice of fattening for physical atraction in Mauritania has become a stigma for young adults who began to feel its negative consequences on health, the Magharebia web site reported earlier this week.

Women who practice what is called in Mauritania Leblouh eat large amounts of food, sometimes by force, especially for girls preparing to get married. The more weight they gain, the more chances of getting married they find, the Web site wrote. If one is slim, tough luck for her finding a husband.
Slim women seen inferior
"Slim women are traditionally deemed inferior," Magharebia Web site wrote.

From an economic perspective, fat is a symbol of wealth, affluence, hence elevated family status.

"The slim girl brings shame to her family in some towns, especially in remote areas," Vadel, a teacher, told the Web site.

"Some families find themselves forced to adhere to the customs of the society around them even if they are not convinced. Local norms don't show any mercy, sometimes, to dissidents."

The custom of Leblouh in Mauritania is practiced more among rural and low educated women who see it as an essential path to marriage.

"I practiced Leblouh with my daughter Leila when she was 10 years old because I wanted her to get married and give birth to children at an early age," Khadija told Magharebia.

"This is the same thing that my mother, may God rest her soul, did with me."

The demand for such practice led to the emergence of specialist fatteners who charge money for helping girls gain weight.

Some of these practitioners pay little attention to the young generation trying to change the custom.

Ache, a 45-year old fattener, told Magharebia, "I think that the custom of Leblouh is indispensable. Simply speaking, a fat woman will usually attract men's looks, unlike the slim woman."
The slim girl brings shame to her family in some towns, especially in remote areas

Vadel
Painful experience
But some women who underwent the fattening experience of Leblouh said it was painful and difficult.

Hoda, who grow up in the countryside, said her mother hired a fattener for her when she was 8 years old. "That woman fattener was very tough with me," she said.

"She would hit me when I got tired of food and when I was about to throw up. She used to make me drink a huge container of milk, of about 5 liters (1.32 gallons). My stomach almost exploded each time."

Selma, another girl, said she was forced to eat more than her stomach could stand and she would throw up several times.

"I gained weight quickly; I was almost 80 kilograms (176 lbs) at the age of 15."

More than 70 percent of Mauritanian women over 40 years old think Leblouh is necessary for marriage, according to a 2007 study by the Social Solidarity Association.

The practice was generally practiced in rural areas, but as rural populations moved to urban centers they carried the tradition with them, according to the association. The study showed that 80 percent of girls were forcibly fattened in the rural areas compared to 10 percent urban cities.

History professor Mohamed Salem refers the practice of Leblouh to the days of the Almoravids, an Amazigh (Berber) dynasty that spread though Sahara in the 11th century.

"Leblouh is a negative phenomenon that has invaded our country since the era of Almoravids," said.

Salem explained that because of harsh desert conditions women in the past were confined to tents, eating and gaining weight. Those who were slim sought conformity with the majority of women by eating a lot.
She would hit me when I got tired of food and when I was about to throw up. She used to make me drink a huge container of milk, of about 5 liters

Hoda
Change of perception
Today things have changed as the new generation of girls and boys view the traditional practice negatively, Salem said

"The age of the traditional 'tent', which symbolizes the desert, has long gone," said Fatimetou, a 22-year old student. "Now that the era of globalization has come, the phenomenon of Leblouh has become meaningless and must disappear, exactly as its age has disappeared."

For Mariem, another student, the practice of Leblouh leads to obesity and serious health problems.

"Today we are in need of thinness and gracefulness so that we may preserve our health. There are so many women who can't leave home because of their excessive weight," she told Magharebia.

Hospitals and private clinics today in the country receive hundreds of female patients every week with weight-related health problems such as heart disease, hypertension and atherosclerosis, according to the Web site.

"There are many chronic cases which we receive as a result of Leblouh," Dr. Sidi Ahmed, a heart disease specialist at Nouakchott's Sabah hospital, told Magharebia.

"We have launched several campaigns aimed at putting an end to this mentality that links beauty and fat, which brings some people to review their customs and traditions."
Today we are in need of thinness and gracefulness so that we may preserve our health

Mariem