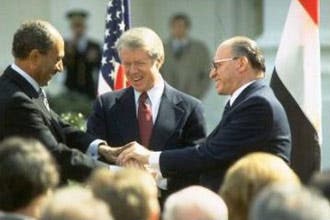 Israel marks peace anniversary, Egypt ignores
One-sided celebration marks cold Egyptian-Israeli peace
Israel is set to celebrate on Wednesday its first peace treaty with an Arab state but its partner Egypt plans to leave the 30th anniversary almost entirely unmarked.

"No commemoration is planned in Cairo" for Thursday's anniversary, foreign ministry spokesman Hossam Zaki said, in a sign of the cold peace that still reigns between the two neighbors amid widespread popular opposition to the treaty in Egypt.

Egypt's ambassador in Tel Aviv, Yasser Reda, will attend one of the celebrations in Israel.

Zaki said it would be an "appropriate opportunity to assess the past and to look to the future," allowing both sides to explore "how this peace can help stabilize a wider peace in the region."
Tension
But a spokeswoman for Reda's counterpart in Cairo commented on the disparity between the two sides' positions on the anniversaries.

"We haven't received any invitation for an event in Egypt, while we're planning several in Israel," Israeli embassy spokeswoman Shani Cooper-Zubida said.

There had been speculation that Egypt might even stay away from the Israeli commemoration after last month's election brought right-winger Benjamin Netanyahu to the brink of power and he then named ultra-nationalist Avigdor Lieberman as his foreign minister-designate.

Last October, Lieberman told Egyptian President Hosni Mubarak he could "go to hell" if he didn't visit Israel. In nearly three decades in power, Mubarak has never once made an official visit to the Jewish state despite.

But after reassurances from aides of both Netanyahu and Lieberman, Egypt eventually confirmed its ambassador would attend.

"We could call it a schizophrenia that verges on the denial of reality," said Egyptian researcher Emad Gad.

"A cold peace has been implemented. In the upper echelons of society there is dialogue and business. Below, there's nothing, or worse."
We haven't received any invitation for an event in Egypt, while we're planning several in Israel

Shani Cooper-Zubida, Israeli embassy in Egypt
Landmark peace treaty
Israeli tourists do visit Egypt but the vast majority head to the Red Sea resorts of the south Sinai. Those are to some degree insulated from the rest of the country but even there three deadly bomb attacks claimed by al-Qaeda loyalists have struck tourist targets.

Israel also vaunts its economic links with Egypt, including Qualified Industrial Zones that allow the two countries to export duty free and a disputed contract to supply Egyptian gas to Israel.

But although trade rose more than fourfold over the four years to 2008, it still totaled only 271 million dollars.

The director of al-Ahram Centre for Strategic Studies, Abdel Moniem Said, said public attitudes in Egypt had not always been so hostile to peace.

For the first few years after the landmark signing on March 26, 1979, which forever changed the Middle East balance of power, there was widespread acclaim for the treaty, Said said.

"There was a lot of popular fervor. To everyone's surprise, three years of warm relations followed until the (1982) war in Lebanon," he told AFP.

"To say that the peace is cold or warm is inaccurate; its temperature is closely linked to fluctuations in the region, primarily the Israel-Palestinian conflict."
To say that the peace is cold or warm is inaccurate; its temperature is closely linked to fluctuations in the region, primarily the Israel-Palestinian conflict

Abdel Moniem Said, al-Ahram Centre for Strategic Studies
Onslaught on Gaza
Israel's deadly three-week onslaught on the Gaza Strip at the turn of the year triggered renewed hostility in Egypt and demands from the Islamist opposition for the government to open its border with Gaza in defiance of agreements with Israel.

Since the conflict, Egypt has proved its usefulness to Israel as an essential go-between in talks with the Palestinian factions, but domestic pressure prompted the government to publicly criticize Israel's conduct of the talks.

The Israeli foreign ministry acknowledged that "despite the solid foundations of Israeli-Egyptian relations, there are still many goals to be achieved."

"Israel yearns to see the peace with Egypt become a vibrant, prolific peace in all fields. It is our hope that the two nations will dedicate the coming years to achieving that goal," it said in an anniversary statement.
Israel yearns to see the peace with Egypt become a vibrant, prolific peace in all fields

Israeli foreign ministry