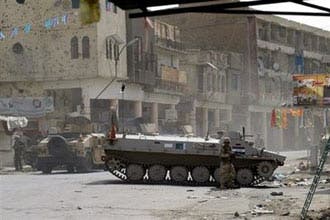 Anti-Qaeda leader's arrest triggers Iraq clashes
Iraqi, US forces order residents to hand over weapons
Iraqi forces clashed with anti-Qaeda militants in Baghdad for a second straight day on Sunday, as U.S. troops backing them ordered residents to hand over weapons or face reprisals.

Automatic weapons fire crackled intermittently in the central Baghdad neighborhood of Fadel, where fighting first broke out on Saturday after Iraqi special forces arrested militia leader Adel Mashhadani.

Mashhadani is the local chief of the Sahwa or Awakening militia comprising mostly-Sunni former insurgents trained and financed by U.S. and Iraqi forces to fight al-Qaeda militants.
Baghdad military command spokesman Major General Qasim Atta said that Mashhadani was arrested along with Sahwa member Salman Kadduri over allegations of murder and extortion.

"There are 80 civil suits against him for murder and extortion," he said.

According to Atta, when Iraqi special forces went to arrest the pair on Saturday they "came under fire," sparking the lethal clashes.

Two Iraqi civilians were killed in Saturday's fighting and 15 other people were wounded, including four soldiers and seven Sahwa members, the interior ministry said.
Blocking access to Fadel
The Iraqi army has blocked access to Fadel since the fighting began while military intelligence police holding name lists checked the identities of all those going into and out of the neighborhood.

The fighting is the worst to erupt in central Baghdad since U.S. and Iraqi forces, backed by Sahwa fighters, waged war in 2007 against al-Qaeda militants and their supporters who had taken over the area.

Atta insisted that Iraqi forces "are not hunting down the Sahwas but carrying out a search operation for suspects wanted by the judicial authorities and gangsters who are firing on our forces."

Iraqi forces, backed by U.S. troops, tried on Sunday to restore calm in the Sunni Muslim neighborhood, a former al-Qaeda bastion, but were confronted by snipers hiding in buildings.

Iraqi soldiers using loudspeakers warned the fighters in Fadel to put down their weapons by Sunday noon (0900 GMT) or they would be arrested, said one of the patrolmen, who identified himself as Abu Sajad.

U.S. military vehicles alongside Iraqi army ones were also seen issuing that message through loudspeakers in Arabic.

"Anyone who still holds weapons after this deadline will be considered a terrorist," the message said.
Anyone who still holds weapons after this deadline will be considered a terrorist

Iraqi, U.S. message
Giving up weapons
U.S. army Lieutenant-Colonel David Buckingham said that nearly half of some 100 Sahwa members "freely gave back their weapons" before the expiry of the deadline.

Buckingham said the U.S.-backed operation was led by Iraqi forces and was expected to be over later in the day.

Some Sahwa militiamen expressed bitterness at having to give up their arms.

"The Sahwas have been liquidated and al-Qaeda will return and the attacks will return with them," one fighter, who gave his name only as Qussay, told AFP after handing in a Kalashnikov rifle.

Mashhadani helped Iraqi and U.S. forces expel al-Qaeda militants from Fadel and then went on to make the Sunni neighborhood his own stronghold.

The Sahwa, known as Sons of Iraq by the U.S. military, played a crucial role in driving al-Qaeda fighters from Baghdad and other areas of Iraq, thereby dramatically reducing levels of violence across the country.

Prime Minister Nuri al-Maliki said that 20 percent of all Sahwas, including 54,000 in the Baghdad area alone, would be integrated into the security forces while the rest would be offered vocational training.

Violence also flared on Sunday in the southern oil hub of Basra, where six people were killed and seven others wounded when a bomb targeting Iraqi oil installation guards exploded, police said.
The Sahwas have been liquidated and al-Qaeda will return and the attacks will return with them

Sahwa fighter