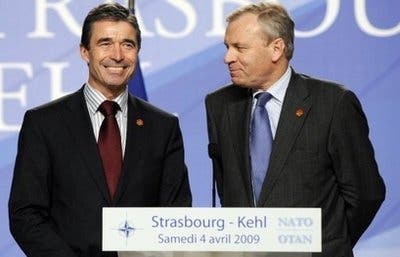 Danish PM chosen as new NATO secretary general
Alliance leaders persuade Turkey not to veto nomination
Danish Prime Minister Anders Fogh Rasmussen will be the next NATO secretary general, he and his predecessor said Saturday, after alliance leaders persuaded Turkey not to veto the nomination.

Rasmussen was introduced by current secretary general Jaap de Hoop Scheffer and congratulated by President Nicolas Sarkozy of France and Chancellor Angela Merkel of Germany, joint hosts of NATO's Strasbourg summit.

"Everyone is fully convinced that Anders Fogh Rasmussen is the best choice for the alliance," Scheffer said, while admitting that there had been long discussions on the issue. "An agreement was found," he said.
Rasmussen said he was deeply honored to be the first Dane to lead the Atlantic alliance and to have been named at the 60th anniversary summit. He will take over from Scheffer on August 1.

The Danish leader had long been seen as the favorite to take over the job, but his nomination was called into question when Turkey -- which could have vetoed the decision -- raised objections at the summit. Ankara had not forgiven Rasmussen for defending a Danish newspaper's right to court controversy in 2005 by printing cartoons of the Prophet Mohammed, nor for refusing a Turkish request that he close a Kurdish television channel.

Alternative candidate
Turkey had earlier said Rasmussen cannot manage NATO's sensitive missions in the Muslim world,especially in Afghanistan, where the alliance fightis Taliban Islamists and al-Qaeda fighters, because of the way he handled the cartoons crisis.

In Istanbul, Prime Minister Erdogan, whose ruling party has Islamist roots, urged NATO to find an alternative candidate.

"Why do we have to stick to a single name? Aren't there other alternatives?" he told reporters. "We wish to find another person with whom the issue will be settled."
United States President Barack Obama, making his first overseas tour since taking office in January, signaled to Europe that he would support Rasmussen.

But Obama said Saturday the alliance did not have to decide on the new chief during the summit.

Other NATO officials however put a brave face on the deadlock and said talks would continue throughout Saturday, the second and last day of the summit that is co-hosted by France and Germany.

"There has been no decision now. The discussion will continue into tomorrow on the succession to Jaap de Hoop Scheffer," said NATO spokesman James Appathurai, after a working dinner between heads of state and government on Friday.
I am convinced that we will name a new NATO secretary general this evening

German Chancellor Angela Merkel
Appathurai refused to comment on which candidates were discussed or how many of the 28 NATO nations raised objections, saying only that the leaders were "not being particularly brief."

"We always arrive at consensus at NATO. We will arrive at consensus on this issue as well. Until then, the only way to describe it is that we don't have consensus," he said.

"We will get there, this alliance always gets there," he added, after the first session of a two-day summit hosted by France and Germany.