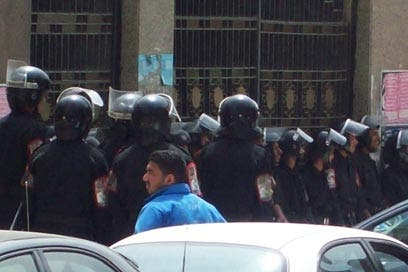 Egypt's Facebook activists 'day of anger' fizzles
April 6 activists arrested, Egypt's Brotherhood MPs walk out
Egyptian security forces arrested several protesters and contained small demonstrations in Cairo Monday during a 'day of anger' organized on Facebook by April 6 youth that largely fizzeled out according to observers.

Dozens of activists, students and members of the banned Islamist group the Muslim Brotherhood were arrested, though there were no reports of mass arrests. A police crackdown over the weekend resulted in at least 30 arrests, according to the Arabic Network for Human Rights Information.

The demonstrations came on the one year anniversary of a nationwide strike organized by activists on Facebook and blogs in conjunction with factory workers in the Nile Delta city of Mahalla.
Day of anger
Protesters held small protests throughout Cairo despite heavy police presence. A few hundred people gathered at the Press Syndicate while hundreds of protesters gathered at Cairo, Ain Shams and Helwan Universities, according to Twitter updates from activists.

Activists used Twitter, which allows users to send out short messages called tweets via mobile phones to their followers and their blogs, and blogs to publicize the detentions and arrests of fellow protesters and keep tabs on police activity.

"The security forces have been making some random arrests from Kifaya and the April Sixth movement, going on a rampage against all the people who are making this," one of the organizers of the Facebook group, Abdallah Elshamy, told AlArabiya.net.
Parliament members affiliated with the banned Islamist Muslim Brotherhood staged a solidarity walk out. The Muslim Brotherhood had called for people to peacefully take part in the 'day of anger' but did not organize its members to participate.

Ayman Nour, the head of the Ghad party and democracy activist who was freed from prison last month, spoke at a rally surrounded by police where he demanded a new Egyptian constitution, a system of checks and balances and the end to emergency law.

"If (the demands) are unheeded by April 6, 2010 we will prepare for a general strike in all of Egypt," he said.
The security forces have been making some random arrests from Kifaya and the April Sixth movement

Abdallah al-Shamy, Facebook group
April 6 movement
The April Sixth movement formed after a year of worker protests culminated in clashes between security forces and workers in the Nile Delta town of Mahalla on April 6 last year, killing three people, including a child, and injuring more than 150.

Organizers called on participants to wear black and protest at work and school and the Facebook page had more than 75,600 members as of Monday morning.

They want the government to raise the minimum wage from 167 Egyptian pounds ($29) to 1,200 Egyptian pounds ($213) a month and elect a body to draft a new constitution.
Only a virtual movement
The April Sixth Youth use the social networking site Facebook and the along with a forum for criticism of a government in power for more than a quarter century and to push for political and economic right.

But some analysts say that because the movement is a virtual one, without any real organization or set of demands, it cannot build the trust needed to create a coalition among disparate groups to demand real change.

"The movement is still a movement not more than this, so it's difficult to make political or social change," al-Ahram Center analyst Khalil al-Anani told AlArabiya.net.
This year the April Sixth movement didn't succeed in gathering all angry people behind them

Khalil al-Anani, al-Ahram Center
"This year the April Sixth movement didn't succeed in gathering all angry people behind them; if they would do this they would of course succeed in their strike today," he added.

Unlike last year, when the virtual movement linked with the Mahalla factory strikers, the movement this year did not get the support of any other strikers or unions such as doctors or truck drivers, who have planned strikes in recent days, said al-Anani.

* See a video montage on http://evideo.alarabiya.net/ShowClip.aspx?clipid=2009.04.06.15.05.13.709