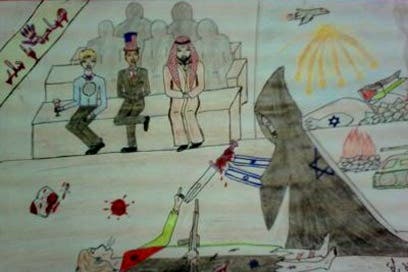 Gaza kids art proves Israeli war crimes: activist
Trapped UK man wants to take kids' war art global
A picture speaks louder than a thousand words, says a U.K. peace campaigner trapped in Gaza for helping its children express the horrors they experienced in the latest Israeli offensive through artistic drawings that he plans to take global as evidence of war crimes through children's eyes.

For 63-year-old peace campaigner Rod Cox, what started as a small project to collect samples of children's drawings depicting Israeli war crimes in Gaza has ballooned into a cultural and artistic exchange project linking Palestinian school children with their British counterparts.
Dramatic new evidence of Israeli attacks on the people of Gaza emerged when Cox handed children in Gaza paper, pencils and crayons and asked them to express themselves and speak their minds.

Rod Cox is set to present these portraits among others as evidence of war crimes committed against Gaza civilians to the International Criminal Court, which in a ground-breaking move in the case of Darfur, used children's art as credible proof to start proceedings against Sudanese government officials accused of committing war crimes.

"Children's witness statements and explanations of what they went through is a significant and important source in a case like Gaza," said Cox.
A change in plan
Initially entering Gaza to collect a few samples and head back to Europe, Cox ended up staying in the Strip for over a month and is turning his modest project into a fully fledged artistic exchange program.

"The plan at first was to compile a few drawings as samples of war crimes through children's art. But as I remained stuck in Gaza over border crossing issues the project has spiralled into a traveling exhibition," Cox told AlArabiya.net.

The project's "hook" is a large green van covered with children's graffiti expressing their feelings about living under war and occupation.

"Palestinian children come up to me and ask why I am driving a green van. I tell them about the art project and give them markers to draw their mind on the van," said Cox. He is set on bringing the traveling exhibition to the U.K. and Europe.
He rolled into Gaza with a plain green van along with the Viva Palestina aid convoy on March 9. But when he set to leave a few days later, Egyptian authorities refused to let him take the van back through Rafah border because only medical vehicles and equipment can use it.

"It was either I go out and leave the van behind or I stay here until the British Consul figures out a way to let me get out with my belongings," Cox explained adding that he decided to wait it out since the van is part of the project of personalizing post-war Gaza for western audiences. Forfeiting it would be "a betrayal of the many Gaza children who count on me to break their isolation and take their voices beyond Gaza," he explained.

Gaza's Ministry of Social Affairs said that 437 children were killed and 1,872 wounded during the 22-day war.
Drawings reveal emotional turmoil
The inside of the van is just as heart wrenching as the outside. Over the past month Cox has collected thousands of children's drawings about what they saw during Israel's three-week offensive on Gaza.

Cox has worked with the Ministry of Education to conduct seminars in several schools and encourage students to draw pictures and write on the green van.

The drawings depict specific incidents from the war witnessed by the child artist while others are more thematic and bring out fear of war or hopes for peace and stability.

If these drawings prove anything, said Cox, it is children's keen awareness of their surroundings and the hardships they undergo.
"The content of these paintings is shockingly revealing of what happened. There are so many confirming accounts of war crimes including bulldozers razing homes with people inside them and children stuck under rubble for weeks with the bodies of their dead families," said Cox, referring to reports by Human Rights Watch and Amnesty International that found Israel committed war crimes in Gaza.

The drawings depict Israeli tanks, bulldozers, helicopters and IDF soldiers launching attacks on Palestinian civilians and destroying nature and buildings.
One detailed portrait shows an orthodox Jewish Israeli soldier with goggles and ringlets emerging out of a tank to shoot Palestinians on the street in broad day light as a rain of white phosphorus fire from a helicopter covers the sky.

Another detailed picture shows a horrific and violent death scene with bodies of women, men and children blown to pieces, trees demolished by bulldozers and fighter jets blanketing the streets with a load of explosives.
A safety valve
Gaza's children make up more than half of the 1.5 million people living in the overcrowded strip, and health experts estimate that about half of these children will develop some form of post-traumatic stress disorder.

According to the Gaza Community Health Program the number of reports of children bed-wetting, stuttering, falling mute, becoming violent or restless and losing their appetites is on the rise.

"Giving children a constructive means to releasing pent up emotions is an effective healing mechanism that enables them to overcome the traumatic experiences they experienced or witnessed during the war," Dr. Eyad al-Siraj, head of the Community Health program told AlArabiya.net.

Artistic exercises help to save children psychologically from future suicidal thoughts or actions, Siraj, who has collaborated with Cox, explained.

More importantly, he added, the children know that others will see their art work and sympathize with them. "[It] gives children hope that there are people beyond the borders of Gaza who care about their ills and troubles."
Giving children a constructive means to releasing pent up emotions is an effective healing mechanism that enables them to overcome the traumatic experiences they experienced or witnessed during the war

Siraj, Community Health in Gaza