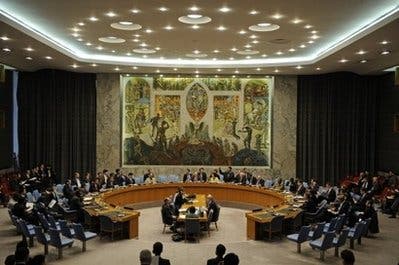 North Korea to quit talks, reopen nuke plants
Program restart in protest of UN condemnation of rocket launch
North Korea announced Tuesday it would quit six-nation disarmament talks and restart its nuclear weapons program in protest at the United Nation's condemnation of its rocket launch earlier this month.

The U.N. Security Council on Monday unanimously condemned North Korea's long-range rocket launch nearly two weeks ago as contravening a U.N. ban, and demanded enforcement of existing sanctions against Pyongyang.

The communist state said the Security Council's discussion of a peaceful satellite launch was "an unbearable insult" to its people.

It said it "sternly rejects" the council's action and would strengthen its nuclear deterrent in response.
"There is no need for the six-party (nuclear disarmament) talks anymore," said a foreign ministry statement carried by the official Korean Central News Agency. "We will never again take part in such talks and will not be bound by any agreement reached at the talks."

The North "will strengthen its nuclear deterrent for its defence by all means," it said.

"We will take steps to restore disabled nuclear facilities... and reprocess used fuel rods that came from experimental nuclear reactors."
We will take steps to restore disabled nuclear facilities... and reprocess used fuel rods that came from experimental nuclear reactors

North Korean statement
Strong statement
The statement, which analysts described as unusually strong, came just hours after the Security Council unanimously approved its statement.

North Korea began taking apart its Soviet-era Yongbyon nuclear plant more than a year ago as a part of a disarmament-for-aid deal it reached with China, Japan, Russia, South Korea and the United States.

It previously threatened to quit the talks, which began in 2003, should the Security Council criticize its April 5 rocket launch.

Pyongyang's regime has been trumpeting its success in launching what it termed a peaceful communications satellite.

The United States and its allies say no satellite has been detected in orbit and the North's purpose in any case was to test a long-range missile.

It agreed to tighten sanctions, which were mandated under Resolution 1718 but never enforced amid hopes of progress on denuclearization.
Backed by the U.S. and its European allies, Japan had pressed for a resolution, which carries more weight than a statement.

But China and Russia urged restraint to avoid harming prospects for resuming the six-party talks.

"Even though the six-party talks were blown up by hostile forces and the denuclearization process torn apart, we will take the responsibility of ensuring peace and security on the Korean peninsula with the strength of the Songun (military-first) policy," the North's statement said.

It said it would actively consider building its own light water nuclear reactors to supply electrical power and blasted what it called double standards by the world body.

"According to the U.S. logic, Japan may launch a satellite because Japan is its ally but we must not do the same because we have a different system and we are not subservient to the U.S.," the ministry statement said.
According to the U.S. logic, Japan may launch a satellite because Japan is its ally but we must not do the same because we have a different system and we are not subservient to the U.S.

North Korean statement