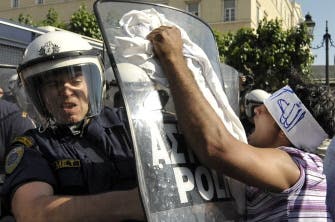 Second day of Greece clashes over Quran incident
Muslims take to the streets after officer tears up holy book
Muslim immigrants clashed again with Greek police Friday during a second day of protests in Athens over charges that officers tore up a Quran during an identity check of immigrants.

About 1,500 Muslim protesters, mainly men in their 20s and 30s from Afghanistan, Pakistan, Bangladesh, Syria and Somalia marched through Athens to protest against the incident, chanting "Allah is great", carrying banners reading "Hands off immigrants" and holding up copies of Islam's holy book.

The Greek capital's main streets were closed amid a heavy police presence.
Violence broke out at the end of the demonstration as around 120 protesters threw projectiles at police, who tried to disperse the crowd with tear gas.

"They started throwing rocks and sticks at police guarding parliament and the officers responded with tear gas and percussion bombs," a police official said.

The protesters pulled up pavements, smashed about a dozen shop windows and damaged cars, leaving some overturned in the middle of streets. Bus stops and traffic lights were destroyed and shocked tourists ran into hotels on the central Syndagma Square for cover.

Police said 46 protesters were arrested. Seven Muslims and another seven policemen were injured and brought to hospital for treatment. About 75 cars, five stores and one bank were damaged, according to a police statement.
They started throwing rocks and sticks at police guarding parliament and the officers responded with tear gas and percussion bombs

Police official
Second day of riots
Around 1,520 Muslim immigrants launched a demonstration on Thursday one day after hearing word of an incident involving the Quran.

Demonstrators said that when police stopped four Syrian immigrants to check their papers on Wednesday, one of the officers tore up a Quran and stamped on it.

The Greek police has opened an investigation into the allegations.

The Muslim Union, representing thousands of immigrants in Athens, said it had filed a lawsuit against the unidentified policeman.

"Police told us they need more time for the internal investigation so we went ahead and filed a suit," union president Naim Elghandour told Reuters.
Deputy Public Order Minister Christos Markogiannakis said that the incident was isolated and that it didn't justify the immigrants' violent outburst.

"We call on the economic migrants who live in Greece to respect the rule of law and we point out that the state won't allow such extreme behavior," Markogiannakis said in the statement.

Greece is faced with a daily influx of immigrants from Asia via Turkey, many of whom are trying to reach Western Europe. Rights groups have complained of cases of police brutality against immigrants.

Interior ministry figures for 2008 show that more than 146,200 illegal immigrants were arrested in Greece, of whom 57,200 had arrived from Turkey.
We call on the economic migrants who live in Greece to respect the rule of law and we point out that the state won't allow such extreme behavior

Deputy Public Order Minister Christos Markogiannakis