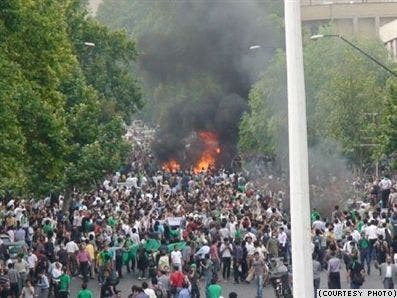 Large scale unrest errupts following Iran election
Reporters to leave Iran amid violence, Mousavi appeals to clerics
Large scale violence not seen for a decade erupted in Tehran Saturday and Iranian authorities have asked some foreign journalists to leave the country as riot police beat reformist supporters protesting the disputed election results, killing three and wounding others.

Three dissenting voters died amidst large scale clashes that broke out over election results between supporters of reformist candidate Mir Hossein Mousavi. Iranian police chased and arrested demonstrators who staged a sit-in at Tehran's Vanak Square, one of the capital's busiest intersections.

Iranian security forces have asked foreign journalists covering the elections to leave the country as shooting erupted in Fatimi square near Tehran's interior ministry after the ministry announced President Mahmoud Ahamdinejad's resounding victory in Friday's vote.
Reformist supporters rage
Following the official announcement of election results presidential challenger Mousavi called on religious clerics to protect dissenters.

Moreover, in a protest against election results Iran's Hashemi Rafsanjani resigned from his posts as the chairman of the Assembly of Experts and as head of the Expediency Discernment Council, the two most influential institutions in the country.

Mousavi, who "strongly protested" what he called the many irregularities in the election, called upon the country's religious clerics to safeguard the political choices of Iranian voters.

He said in a separate statement that members of his election headquarters had been beaten "with batons, wooden sticks and electrical rods." He did not give details.

Al Arabiya broadcast footage of policemen attacking protesters. Iran security forces also surrounded Jamran area in Tehran where many reformist leaders, including Muhammad Khatami live.
Thousands of Mousavi supporters swept through Tehran shouting "Down with the Dictator" as baton-wielding riot police firing tear gas clashed with protestors who pelted security forces with stones and set rubbish bins and police vehicles ablaze in unrest not seen since student riots a decade ago.

Up to 2,000 Mousavi supporters took part in the sit-in in the middle of the road, chanting: "Mousavi take back our vote! What happened to our vote?"

Hundreds of his backers later gathered in side streets near Vanak, chanting anti-Ahmadinejad slogans and bringing traffic to a standstill. "We are Iranians too," and "Mousavi is our president," they shouted.

The protests were a first reaction by Mousavi supporters, who thronged the streets of Tehran nightly in the run-up to Friday's vote, to Ahmadinejad's victory.

"I have never voted before. I did vote on Friday but it did not count," one middle-aged woman said near Vanak.
Some demonstrators later set rubbish bins on fire and taunted riot police. Some also threw stones at them. Police at times charged at the protesters who then fled, only to return shortly afterwards.

"The election was corrupt. If Ahmadinejad had won where are his supporters? How come they are not celebrating? said Reza, 25. "Most people think Mousavi won the election," said another young man, Saman.

Elsewhere in Tehran, tires were set ablaze, witnesses said.
The election was corrupt. If Ahmadinejad had won where are his supporters? How come they are not celebrating

Reza, Iranian voter
Scuffles broke out also early on Saturday between police and chanting Mousavi supporters in another Tehran square.

Police say they have increased security across the capital to prevent trouble.

Iran's Supreme Leader Ayatollah Ali Khamenei announced Saturday's results as final and urged defeated presidential election candidates on Saturday to avoid provocations and to support the victor, Ahmadinejad.
Analysts doubt election results
Meanwhile several analysts charged Iran election results were "not credible" given several indicators of vote rigging as Mousavi lost the balloting in his own hometown and Mehdi Karroubi, the other reformist candidate, received less than one percent of the total vote according to the Iranian committee's official counts.

"I don't think anyone anticipated this level of fraudulence. This was a selection, not an election," Karim Sadjapour, analyst at the Cargegie Endowment for International Peace told Reuters. "In retrospect it appears this entire campaign was a show: (Supreme Leader) Ayatollah (Ali) Khamenei wasn't ever going to let Ahmadinejad lose."

Mark Fitzpatrick, senior fellow for non-proliferation at the International Institute for Strategic Studies in London, said Ahamdinejad's second term means Iran's engagement with the United States will not lead to any substantial concessions from the Iranian side.
I don't think anyone anticipated this level of fraudulence. This was a selection, not an election

Karim Sadjapour, Iranian analyst
[T]here will be no change in the management of the nuclear portfolio," Fitzpatrick said. "Ahmadinejad wants engagement with the United States without making any concessions at all in the nuclear program. So it doesn't augur well for an early and peaceful settlement of the nuclear dispute."

Ali Ansari, director of the Institute for Iranian Studies at the University of St. Andrews in Schotland called the election results "nonsense," adding that a genuine election landslide would have instigated celebrations rather than riots.

"The potential for unrest is high. People will wake up today in Iran in a state of shock, not that Ahmadinejad has won, but that he has won on such a dramatic scale," Ansari warned.
The potential for unrest is high. People will wake up today in Iran in a state of shock, not that Ahmadinejad has won, but that he has won on such a dramatic scale

Ali Ansari, Iranian analyst