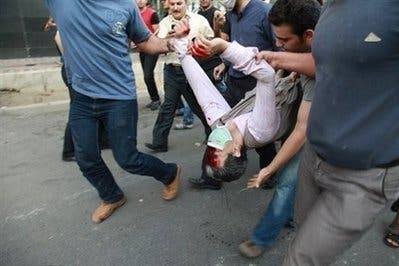 Iran riot police block parliament demontsrations
Government continues blaming Western meddling
Riot police blocked protesters from gathering in Tehran on Wednesday, witnesses said, as Iran's supreme leader warned he will not back down in the face of unrest following the disputed presidential vote.

"In the recent incidents concerning the election, I have been insisting on the implementation of the law and I will be (insisting). Neither the system, nor the people will back down under force," Ayatollah Ali Khamenei said.

It was the latest indication that the clerical regime will not tolerate dissent over the re-election of President Mahmoud Ahmadinejad despite a wave of public demonstrations and complaints that the June 12 election was rigged.

Iran has refused to overturn the results of the poll but Khamenei -- who has ruled over the Islamic republic for 20 years -- has extended by five days a Wednesday deadline to examine vote complaints
And in a sign security forces are wasting no time to put down protests, a large presence of riot police and Basij militiamen stopped a crowd of several hundred people trying to assemble outside the Iranian parliament building, according to a witness.

Another witness near parliament reported seeing police charge at passers by, who dispersed into nearby streets.

Later in the evening a big squad of riot police remained deployed in the area, a source said.
In the recent incidents concerning the election, I have been insisting on the implementation of the law and I will be insisting. Neither the system, nor the people will back down under force

Ayatollah Ali Khamenei
Diplomatic backlash
In the latest diplomatic backlash over what Iran has branded Western meddling, Foreign Minister Manouchehr Mottaki said Tehran may downgrade ties with Britain.

His comments came after the two governments expelled diplomats in a tit-for-tat move, with Tehran increasingly pointing the finger at London over the street violence that erupted in the aftermath of the election.

"We are monitoring the situation. We have noted these reports. We have always been clear that we seek a constructive bilateral relationship with Iran based on mutual respect," a spokesman for British Prime Minister Gordon Brown's spokesman said.

"Iran's decision to try to turn what are clearly internal matters for Iran into a conflict with the U.K. and others is deeply regrettable and without foundation."
Iran's decision to try to turn what are clearly internal matters for Iran into a conflict with the U.K. and others is deeply regrettable and without foundation

UK govt
Tehran has accused Britain -- described by Khameini as the "most evil" of Iran's enemies -- of plotting against the election and seeking to stabilize the country.

It has expelled the BBC correspondent in Tehran and arrested a British-Greek journalist working for a U.S. newspaper, one of at least two foreign reporters detained by the authorities.

Iran's interior minister also took aim at the United States, saying rioters were being funded by the CIA and the exiled opposition group the People's Mujahedeen.

"Britain, America and the Zionist regime (Israel) were behind the recent unrest in Tehran," Interior Minister Sadeq Mahsouli was quoted as saying by the semi-official news agency Fars.
Rezaei withdraws
Another defeated candidate, former Revolutionary Guards chief Mohsen Rezaei, has withdrawn his protest about election irregularities, in a blow to the opposition.

"(Iran's) political, social and security situation has entered a sensitive and decisive phase, which is more important than the election," Rezaei said in a letter to the Guardians Council, the top election body.

Mousavi, who was premier in the post-revolution era, has urged supporters to keep demonstrating but to use "self-restraint" to avoid further bloodshed while another defeated candidate Mehdi Karroubi has called for a mourning ceremony on Thursday for slain protesters.

The Revolutionary Guards, the elite force set up to protect the Islamic republic, has warned of a "decisive and revolutionary" riposte to any further protests.

The last opposition rally on Monday was crushed by hundreds of riot police armed with steel clubs and firing tear gas.

The foreign media is banned from reporting from the streets under tight restrictions imposed since the unrest was unleashed, but images of police brutality have spread worldwide via amateur video over the Internet.
Iran's political, social and security situation has entered a sensitive and decisive phase, which is more important than the election

Mohsen Rezaei
Mousavi's wife
Meanwhile the wife of Mousavi called on the establishment to immediately release Iranians detained at election protests and said she would continue to protest but was sure to add "legally," according to Mousavi's website.

"I regret the arrest of many politicians and people and want their immediate release ... It is my duty to continue legal protests to preserve Iranian rights," Zahra Rahnavard was quoted by the website as saying.

She also criticized the presence of armed forces in the streets.


(With Agencies)