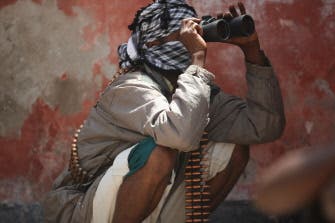 Somali troops clash with insurgents
More than 40 al-Shabaab fighters killed
Somali government troops backed by African Union peacekeepers battled insurgents on Sunday in clashes that killed at least 43 people in north Mogadishu, residents and officials said.

Somalia's government and a 4,300-strong AU force (AMISOM) have been unable to take control of rebel strongholds in Mogadishu and other parts of the Horn of Africa nation despite international support and training.
"We have killed 40 fighters from al-Shabaab group and we continue to repulse them. We have now pushed them back from three northern districts of Mogadishu. AU peacekeepers were assisting us," said Salad Ali Jelle, a parliamentarian who was involved in Sunday's fighting.

Rebels were not immediately available for comment.

Mogadishu's deputy mayor said the insurgents had captured an area near the presidential palace at the weekend. "AMISOM backed us up in this latest operation because the rebels were only one kilometer to the presidential palace," said Abdifitah Shawey.

"We lost three soldiers in battle."

Somalia's interim government has been pushing for a stronger mandate for AMISOM to allow its soldiers to help government forces fight opposition groups. Ugandan and Burundi peacekeepers are only allowed to defend themselves if attacked and protect key sites such as the presidential palace, airport and harbor.
We lost three soldiers in battle

Abdifitah Shawey, Mogadishu\\\'s deputy mayor
An ambulance driver told Reuters that he had seen eight dead fighters lying on the streets and had picked up 16 wounded. It was not clear if the eight bodies were al Shabaab fighters.

"Shelling into the residential areas is still going on. We do no have access into some areas," said Ali Muse of Mogadishu Lifeline and Nationlink Ambulance service.

An AMISOM spokesman said, "Our troops were in imminent danger so we had to take some limited action because the rebels crossed the red line where they were not supposed to go to avoid our military action."

Residents said they saw AU troops in armored vehicles fighting against insurgents in north Mogadishu.

"I have seen early this morning tanks of AMISOM going towards the frontline of the fighting and after a short while we heard gunshots much louder and heavier than in the past days," said resident Ahmed Haji.

Fighting in Somalia since Ethiopian troops ousted the Islamic Courts Union in late 2006 has killed at least 18,000 people and sent hundreds of thousands more fleeing from their homes.

On Saturday, clashes between insurgents and government troops killed at least 20 people in the heaviest fighting for a week in the capital.
Our troops were in imminent danger so we had to take some limited action because the rebels crossed the red line where they were not supposed to go to avoid our military action

AMISOM spokesman