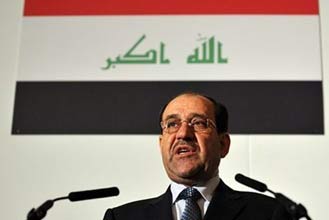 Iraq sends anti-militant police to Syrian border
Iraq accuses Syria over Sunni militants
Iraq began stationing thousands of extra police on the border with Syria this week in response to a spate of bombings blamed on militants Baghdad accuses Damascus of sheltering, an official said on Friday.

Iraqi Prime Minister Nuri al-Maliki has accused Syria of turning a blind eye to Sunni militants using it as a safe haven.
Maliki says 90 percent of foreign jihadists entering Iraq do so through Syria, including fighters he blames for two bomb attacks outside ministries in Baghdad that killed nearly 100 people last month.

"These are the emergency forces for the borders ... to fill in the gaps," Major-General Tariq Yusuf, police chief of Iraq's western Anbar province, which borders Syria, told Reuters. He said Maliki had ordered the deployment personally.

Some were already stationed, while others were on the way, he said, declining to give further details.

"There is a government accusation against Syria relating to the bomb attacks ... They have information that there is a threat from Syria," he added. "We have caught two infiltrators trying to enter in the last two months."
These are the emergency forces for the borders ... to fill in the gaps

Major-General Tariq Yusuf, police chief of the Iraqi western Anbar province
Explanations demanded
On Thursday, Maliki challenged Syria to explain why it shelters armed groups Iraq blames for staging bombings in its territory. Baghdad has demanded that Damascus hand over two alleged masterminds of the bombings in the Iraqi capital.

Iraq's Shiite-led government blames supporters of Saddam Hussein's outlawed Baath party and Sunni Islamist al Qaeda for recent attacks, and says Baath party leaders plotted the bombings from Syrian territory.

Iraqi officials on Monday broadcast a video of what they said was a confession by a suspected al Qaeda militant claiming to have been trained by Syrian intelligence agents there.

Syrian President Bashar al-Assad called Iraq's accusations "immoral" and demanded Baghdad provide proof.

Maliki has formally asked the U.N. Security Council to launch an inquiry into the bombs.

Addressing the state-run Iraqiya TV station in a program aired on Friday, government spokesman Ali al-Dabbagh said the request for an inquiry had not mentioned Syria.

"We just asked for investigation," he said. "But we have the proof and evidence and confessions. Al-Qaeda has even declared that it gets the logistic support from groups operating in Syria, and we have proof of that."

Syria and Iraq, for many years ruled by rival wings of the Baath party, were at odds after Saddam came to power in 1979, but ties improved, as did trade, in the late 1990s.

Tensions resurfaced after the 2003 U.S.-led invasion ushered in unprecedented Shiite Muslim rule to Iraq.
We just asked for investigation. But we have the proof and evidence and confessions. Al-Qaeda has even declared that it gets the logistic support from groups operating in Syria, and we have proof of that

Iraqi government spokesman Ali al-Dabbagh