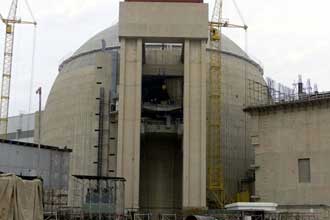 US mulls new review of Iran threat: report
US Senate approves Iran sanctions bill
U.S. spy agencies are considering whether to rewrite a controversial 2007 intelligence report that asserted Tehran halted its efforts to build nuclear weapons in 2003, the Wall Street Journal reported on Friday.

The possible reassessment comes as pressure is mounting from Congress and among U.S. allies for the Obama administration to redo the 2007 assessment, after last month's revelation of a second uranium enrichment plant in Iran.
German, French and British intelligence agencies have all disputed the conclusions of the 2007 National Intelligence Estimate, or NIE, in recent months, the Journal said, citing European officials briefed on the exchanges.

The report reversed earlier findings that Iran was pursuing a nuclear-weapons program. It found with "high confidence" that Iran halted its nuclear weapons program in 2003, and with "moderate confidence" that it hadn't been restarted as of mid-2007.

So far, intelligence officials are not "ready to declare that invalid," a senior U.S. intelligence official told the Journal, emphasizing the judgment covered the 2003-2007 time frame only. That leaves room for a reassessment of the period since the December 2007 report was completed, the official suggested.

The spy agencies "have a lot more information since we last did" a national intelligence estimate, the official said. Some of it "tracks precisely with what we've seen before," while other information "causes us to reassess what we've seen before," the official added.

U.S. intelligence officials have been discussing whether to update the 2007 report, though no decision has been made yet on whether to proceed, a senior U.S. intelligence official told the Journal.

If undertaken, a new NIE likely wouldn't be available for months, the Journal said. The United States and its allies have imposed an informal December deadline for Iran to comply with Western demands to cease enriching uranium or face fresh economic sanctions.

The 2007 U.S. intelligence estimate at the time dampened international support for further sanctions on Iran, which denies any plans for atomic weapons and says its uranium enrichment work is intended only for electricity production.
US gas sanctions
Meanwhile, U.S. lawmakers Thursday passed a bill barring companies that sell fuel to Iran from winning deals with the US government in a bid to up the pressure on Tehran for its suspect nuclear program.

The bill was included in the Department of Energy's proposed 2010 budget that passed by an 80-17 vote in the Senate.

The House of Representatives has already approved a similar measure, which now goes to President Barack Obama for signing.

The measure states that no foreign company that sells more than one million dollars' worth of refined petroleum products to Iran can bid for Department of Energy contracts. Despite being a major oil producer, Iran imports 40 percent of its gasoline products.

Other Iran sanctions measures are under consideration in Congress, including one by Senate Banking Committee chairman, Democrat Christopher Dodd, who said he plans to present it before the end of the month.