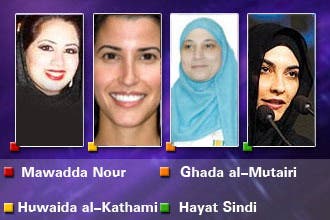 Saudi women rise up after years of absence
Despite challenges women climb the heights of success
Saudi women have dazzled international observers by becoming pioneers in a variety of fields, most prominently science and research, proving that their absence for almost half a century was forced by the buildup of customs and traditions, which they seem to have risen up from.

Over the past five years Arab and international media have reported that Saudi women were held back from scientific and social achievements by Saudi customs and traditions, which the reports labeled an impediment to the realization of women's aspirations.
In recent years, however, Saudi women have made achievements unmatched by many in the Arab world, including their male counterparts, who have started to witness the field of opportunity for shrink as women prove to be respectable rivals in various fields.

A recent report in Time Magazine, published on Oct.19 and written by Andrew Lee Butters, argues that significant positive developments in women's rights are taking place in Saudi Arabia, albeit, a little slow.
Saudi accomplishments
The latest example of excellent achievements is seen in the likes of Ms. Ghada Ba-Aqeel, who was recently awarded the "Best Women's Business" in the world, by the Youth Organization of Global Business (YBI), an unprecedented achievement in the Arab world.

Women such as Professor Ghada al-Mutairi and Professor Hayat Sindi are also notable examples of Saudi women who have made significant achievements in academic and scientific research and even Ms. Mawadda Nour, 23, being crowned "Miss Arab World 2009" at a pageant in Cairo is a notable achievement.

Meanwhile, Professor Sindi made a grand accomplishment for Arab women and Saudi women in particular by pioneering a device with a team of researchers that makes medical analysis tools more available, easier to produce and in the size of a fingertip.

Sindi and her team won the first prize in two international awards for her innovative "Diagnostic-For-All" device.

As for Professor al-Mutairishe heads a research center in California after winning the
National Institutes of Health (NIH) Director's Pioneer Award Program.

The three-million-dollar grant was given to 32 professors for winning the best scientific research that discovers an object that reflects rays and treats illnesses without the need for surgery.
Also in the medical field, Dr. Howaida Obaid al-Qethamy rose up as another famous Saudi surgeon who has distinguished herself in pediatric and neonatal heart surgery and won the King Faisal order of merit, fourth grade, for becoming the top pediatrician in the Middle East and second in the world.

Added to those medical and scientific achievements is the selection of Ms. Umaima al-Khamis' novel al-Warfah (The Leafy) to be listed for the Arabic Booker Prize 2010, also known as the International Prize for Arabic Fiction (IPAF).

Also in academics, Dr. Soraya Al Turki--Professor of Anthropology at the American University in Cairo-- shines as an exemplary Saudi academic who lectures at universities worldwide from Harvard to George Washington.

Other female figures have also made remarkable contributions to the rise of Saudi women in different fields to the heights of human achievements despite the supposed constraints of traditions and social customs.



(Translated from Arabic by Mustapha Ajbaili)