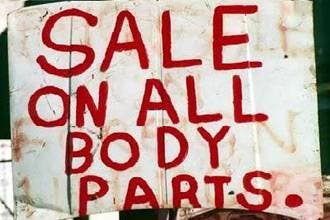 Israeli video confirms theft of Palestinian organs
Top pathologist says doctors also involved in organ stealing
An Israeli video confirmed accusations that Tel Aviv was illegally stealing organs from the dead bodies of Palestinians and justified the practice in the name of scientific research, press reports said Sunday.

The news of the harvesting of Palestinian organs was first published by a Swedish newspaper, which an outraged Israel denied, but according to the video corneas, hearts, bones and skin from the back were harvested from the bodies of dead Palestinians without authorization or permission from their families, the Palestinian Maan News Agency reported.
The 57-minute video was filmed by Yehuda Hiss, the director and chief pathologist at the Abu Kabir Institute of Forensic Medicine, and explains how he authorized organ theft, gave instructions to doctors to do so and said he would sometimes snatch the organs himself.

"The process started in the early 1980s and lasted till the end of 2000," Hiss, who heads the only place in Israel authorized to conduct autopsies in cases of unnatural death in Israel and the occupied territories, said in the video.

"We would not remove the entire eye," Hiss said. "We would just remove the cornea then close the eye back."

Hiss explained how he has also removed skin from the back of dead Palestinians and said the families of the dead never discovered the theft since they did not turn the body before burying it.

The skin was then said to have been given to soldiers who suffer from burns and in 1986 a skin bank was established in Israel.
Slap on the wrist
Bones, especially long ones, and parts of the heart were also regularly stolen.

"We donated the organs we took to hospitals," Hiss explained. "I specifically gave them to Tel Hashomer hospital because all the doctors there were my friends. I took no money in return, but four years later they gave us a microscope. We also gave organs to the Hadassah Medical Center in Jerusalem and they gave us an inter-body scan to film the contents of the corpse."

Israeli law prohibits taking organs from corpses without obtaining permission from the family of the deceased, which Hiss said he specifically instructed doctors not to do.

"We did it for the sake of research and medical progress," said Hiss, who admitted to having removed organs from 125 bodies without permission or authorization.

News of organ thefts led to the suspension of Hiss as director of the institute in 2005 but Israel's top attorney decided not to press charges and Hiss ended up just being reprimanded and going back to his position at the institute.

The Israeli Ministry of Health responded to the tape by saying that everything was done in accordance with the law while hospitals that were named argued that the topic is old news and there is no point bringing it up again now.


(Translated from Arabic by Sonia Farid)