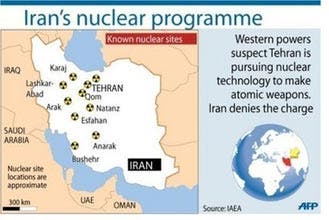 France rejects Iran's nuclear counter-proposal
Tehran in new threat over uranium swap deal
France rejects Iran's latest move to set a new deadline to end the standoff over its contested nuclear program, Foreign Minister Bernard Kouchner said Monday.

"We are not the ones who have to decide whether to accept what they want to impose on us," Kouchner told RTL radio. "No, this is not the way it is done."

Iran said on Sunday that it had until the end of January to reach agreement on a deal to swap uranium for nuclear fuel after rejecting a Dec. 31 deadline set by world powers.
Kouchner said Iran was trying to "side-step" the issue by "giving an ultimatum to those who have offered to help them, that is the international community including France."

Turning to opposition protests challenging the Iranian regime, Kouchner said the establishment was "under threat by very determined people, some of them very religious, and by the Shiite leadership."

"There is enormous repression. We must condemn those that cause unarmed protesters to be exposed to bullets, arrests and very severe convictions including death sentences," he added.
We are not the ones who have to decide whether to accept what they want to impose on us

French Foreign Minister Bernard Kouchner
Iranian threat
Despite the threat of tougher sanctions, Iran has rejected the offer drawn up by the International Atomic Energy Agency (IAEA) and come out with its own proposal of a simultaneous and staged swap of low enriched uranium (LEU) with reactor fuel.

"Based on the talks Iran had with the relevant parties, it was decided to provide the Tehran reactor with the necessary fuel (from outside), and if not then we will produce it," foreign ministry spokesman Ramin Mehmanparast said.

"Then the (negotiating) parties asked the Islamic republic to give them two months to reach an understanding and we accepted that," news agencies quoted him as saying.

"Now one month of that waiting period is over and one month is left. So if it does not materialize (the provision of fuel) then Iran will take the necessary decision."

Mehmanparast was speaking a day after Foreign Minister Manouchehr Mottaki gave the West a one-month "ultimatum" to accept the Iranian counter-proposal.

Some western powers have dismissed the Iranian proposal and called on Tehran to accept the IAEA deal or face further sanctions.

Reacting to Mottaki's statement, the U.S. National Security Council spokesman Mike Hammer said on Saturday that the IAEA proposal was sufficient.

"If getting access to fuel is Iran's objective, then there is absolutely no reason why the existing proposal, which Iran accepted in principle at Geneva, is insufficient. The Iranian government is standing in its own way," Hammer said.

Last month Mottaki said Iran was open to exchanging uranium on Turkish soil. The IAEA has ruled out a swap taking place in Iran itself.
Pressure by world powers
World powers have been pushing for Iran to accept the U.N.-brokered deal and are also mulling fresh U.N. sanctions after Tehran dismissed the year-end deadline.

Iran is already under three sets of U.N. Security Council sanctions over its defiance and refusal to suspend enrichment, which lies at the heart of international fears about its nuclear program.

The process that makes nuclear fuel can also be used to make the fissile core of an atomic bomb.

The United States, Israel, and other world powers suspect Tehran is making a nuclear bomb under the guise of a civilian program, something Iran vehemently denies.

The United States is reportedly weighing targeted sanctions against members of Tehran's government and most notably the Islamic Revolutionary Guards Corps that runs the country's ballistic missile program.

The Washington Post said on Wednesday the U.S. administration wanted targeted sanctions to avoid alienating the Iranian public, while keeping the door open to a resolution of the crisis over Tehran's nuclear program.

The New York Times reported on Saturday that President Barack Obama's administration believes domestic unrest and signs of unexpected trouble in Iran's nuclear program make its leaders vulnerable to strong and immediate new sanctions.

Meanwhile, a top Israeli official said the U.N. Security Council will adopt a fresh batch of sanctions against Iran within a month.