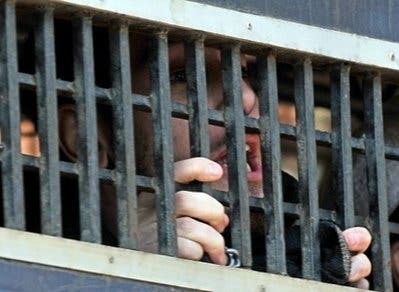 Americans held in Pakistan complain of torture
Five US citizens accused of link to al-Qaeda plead innocent
Five Americans accused of contacting militants over the Internet and planning terrorist attacks told a court on Tuesday they were tortured by the FBI and Pakistani police attempting to frame them.

"They also said they were given electric shocks," their lawyer, Tariq Asad, told reporters.

Asad quoted the detainees as alleging that they were threatened with having their passports destroyed and "being stabbed in the chest" if they reported their alleged mistreatment to the media.
The case of the Americans, in their 20s and from Virginia, has underscored global security dangers posed by the Internet as militants use cyberspace to evade tighter international security measures and wage holy war.

Pakistan is struggling to contain Taliban insurgents who have carried out waves of suicide bombings at crowded markets, police and military facilities and mosques.

Pakistani officials say the men planned to travel to Afghanistan to fight with the Taliban against U.S. troops. The men have denied links to al-Qaeda and said they wanted to go to Afghanistan for charity work.

They face life imprisonment if put on trial and found guilty. A Pakistani court has barred their deportation to the United States.
They also said they were given electric shocks

Tariq Asad
"We are innocent"
"Since our arrest, the USA, FBI and Pakistani police have tortured us," said a complaint written on tissue paper the Americans threw at journalists from a police van.

"They are trying to set us up. We are innocent. They are trying to keep us from the public-media, our families and our lawyer. Help us!"

The Americans were arrested in the central city of Sargodha, home to one of Pakistan's biggest air bases, 190 km (120 miles) southeast of the Pakistani capital Islamabad, not long after arriving in Pakistan.

Two of them are of Pakistani ancestry, one of Egyptian, one of Yemeni and one of Eritrean. They could face lengthy prison terms if found guilty.

Sargodha jail superintendent, Anjum Shah, denied the men's claims of mistreatment and said the suspects had not complained to prison authorities.

"There is no torture on the accused in the jail, we are treating them according to the rules," he told AFP.

Rick Snelsire, spokesman for the U.S. embassy, also rejected the allegations of torture against the United States and the Federal Bureau of Investigation as "baseless," and said they the men had received consular services.

Police officials have said emails showed the suspects had contacted the Taliban, and that the militant group had planned to use them for attacks in Pakistan, which Washington sees as a front-line state in its war against militancy.

A defense lawyer distributed a letter he said Egyptian suspect Ramy Zamzam, 23, wrote to his parents.

"Dear mom and dad. Stay patient and trust and pray to Allah. We have been tortured since our arrest," it said.

"Keep trying your hardest to contact us directly and speak to us personally. I love you all. Just stay patient and keep making dua (prayer). Your son, Ramy Zamzam."
Since our arrest, the USA, FBI and Pakistani police have tortured us

American suspects