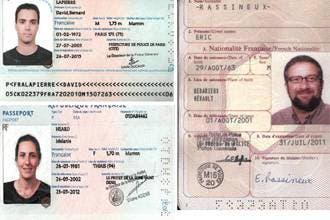 Dubai has "DNA proof" of Mabhouh assassin
Intl police force to hunt Mabhouh killers: Dubai police chief
Dubai police said on Friday they have DNA proof of the identity of at least one of the killers of senior Hamas leader Mahmud al-Mabhouh in the emirate last month.

"We have DNA evidence ... from the crime scene. The DNA of the criminals is there," police chief Dhahi Khalfan told Al Arabiya.

He said police had "categorical DNA proof on one of the assassins" and fingerprint evidence from several other suspects, providing "100 percent" proof of their identities.

The murder of Mabhouh, whose body was found in a Dubai hotel room on Jan. 20, has mounted international pressure on Israel after Dubai said that Israeli agents, most using stolen Western identities, had carried out the hit.
Israel says no proof
But Israel has argued there is no evidence that its spy agency, the Mossad, was behind the hit.

Dubai police have published details of 26 suspects together with passport photographs.

The international police organization, Interpol, has circulated warrants for the arrest of 11 suspects, after Dubai released their names and passport details.

Dubai later said it had 15 other suspects, and Khalfan said warrants for their arrest would be circulated through Interpol next week.
We have DNA evidence ... from the crime scene. The DNA of the criminals is there

Dubai Police Chief Dahi Khalfan
Khalfan said in comments published on Friday that an international police unit with officers from the Emirates and at least seven other countries will hunt for the killers of Mabhouh suspected of being Israeli agents.

The al-Bayan daily quoted Khalfan as saying that officers from the United Arab Emirates, unspecified European countries, Australia and perhaps the United States, would be part of the unit.

He said that some of his officers had already travelled to several "European countries concerned" with the investigation, the government-owned daily reported.
Outcry in Europe
Khalfan did not name the countries.

"We will work via European and Australian diplomatic channels -- and perhaps American -- to set up a working team formed from the Emirates police force and those of at least seven other states to track down the gang responsible for the assassination," the newspaper quoted Khalfan as saying.

Twelve British, six Irish, four French, one German and three Australian passports were used by the suspects, according to Dubai police.

The revelation of stolen identities being used by suspected Israeli agents has caused an outcry, with Australia threatening it would "not be silent on the matter," and Irish Foreign Minister Micheal Martin saying "we are very angry."

Israel has said there is no evidence that its spy agency, the Mossad, was behind the hit.

Khalfan denied media reports that some of the suspects had carried diplomatic passports.

He said that his force had succeeded in identifying the suspects, even though some had worn wigs during the operation.

The suspects were identified by footage from closed circuit televisions, which abound in security-conscious Dubai.
We will work via European and Australian diplomatic channels -- and perhaps American -- to set up a working team formed from the Emirates police force and those of at least seven other states to track down the gang responsible for the assassination

Khalfan