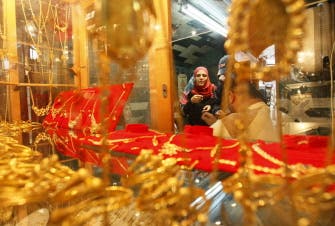 Gazan brides rush to buy gold despite blockade
Gold bazaars thriving due to Hamas championed weddings
Gaza's borders are closed and its economy in shambles, but the glittering alleys of the territory's centuries-old gold bazaar are packed with young brides to be.

The market has experienced an unlikely renaissance in recent years as Gaza's Hamas rulers have championed weddings and Israeli closures have crippled the local economy, making gold an attractive investment.
"Not only have we not been hurt by the Israeli blockade, but our business has actually gotten better," gold merchant Iyad Basal says as people cram into his crowded family-run shop.

"We have not stopped working since the blockade because the gold comes to us through smuggling and Hamas encourages marriage," he adds.

Israel and Egypt have largely sealed Gaza's borders since Hamas seized power in June 2007, but some merchants have survived and even thrived by importing products through smuggling tunnels beneath the Egyptian border.

Others have jewelry brought in through the Erez pedestrian crossing with Israel, which is usually open to foreign journalists, aid workers and Palestinians with special permits.

Hamas has encouraged marriage by holding mass weddings, running a matchmaker service for war widows and other poor girls and giving financial support to thousands of young men hoping to settle down.

Hassan al-Juju, a judge in the Islamic family courts run by the group, says the rate of marriage in 2009 was higher than any year in the last decade.
Not only have we not been hurt by the Israeli blockade, but our business has actually gotten better

Gold merchant Iyad Basal
No beauty in a bride without gold
The effects can be seen in Gaza City's Qaisariya Market, a 600-year-old covered bazaar largely destroyed by Allied shelling during World War I, which on most days is packed with young brides-to-be.

"Gold has become expensive but there is no beauty in a bride without gold. Her joy just wouldn't be the same," says Amal, 25, as she tries on necklaces in gleeful anticipation of her approaching wedding day.

In Gaza the groom traditionally gives money to the bride-to-be, usually a few thousand dollars, part of which is spent on gold jewelry. The Muslim tradition is in part aimed at providing women with financial security.

As in other parts of the world struck by financial crises, ordinary Gazans have also turned to gold as a secure investment and an alternative to local banks which are frequently short on cash.

"Those who have money buy gold because they can't build and they can't put money in the banks because of the liquidity crisis," says one trader who asked not to be named.

Another trader, Mohammed Yunis, says his sales have gone up by 20 percent in the last three years, in part reflecting the improved security since Hamas solidified its control over the territory.

"Hamas has provided security since they took over, so we no longer fear the theft that used to be rampant," he says.

The merchants admit that prices have gone up, in part because of the heavy fees charged by smugglers, who can tack on up to 50 percent of the price of jewelry, but customers appear to be willing to bear the burden.

"I would have preferred not buying gold now and saving money until the price goes down a little, but my family insisted that I buy it now before the wedding," said Nisma, a 23-year-old bride.

"My mother said, cheap or expensive, the bride has to wear gold, even if only a little... It's better than going to your husband's house with nothing."
Gold has become expensive but there is no beauty in a bride without gold. Her joy just wouldn't be the same

Amal, 25