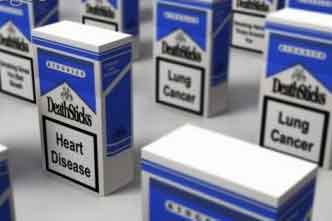 Cigarettes may contain pig's blood: report
Pig blood used in filters to trap harmful chemicals
Thought you knew all about the negative side effects of smoking? A new study reveals cigarettes may contain traces of pig's blood which could be "very offensive" to Muslims and other religious groups, Australia's The Australian reported on Tuesday.

University of Sydney Professor Simon Chapman referred to a "recent Dutch research which identified 185 different industrial uses of a pig - including the use of its haemoglobin in cigarette filters," The Australian said.
Muslims and Jews both ban the consumption of pork and strict vegetarians and vegans refuse to use any animal products or bi-products.

"I think that there would be some particularly devout groups who would find the idea that there were pig products in cigarettes to be very offensive," Chapman.

"The Jewish community certainly takes these matters extremely seriously and the Islamic community certainly do as well, as would many vegetarians.

According to the recent study, pig haemoglobin, a blood protein, is used in cigarettes to make filters more effective at trapping harmful chemicals before they could enter a smoker's lungs.

Chapman said that there is no way of knowing for sure which brands use pig haemoglobin. When listing the content of their products, tobacco companies say that there are "processing aids ... that are not significantly present in, and do not functionally affect, the finished product. "Pig haemoglobin falls in that category and therefore would not be clearly stated on the list.

"It just puts into hard relief the problem that the tobacco industry is not required to declare the ingredients of cigarettes ... they say 'that's our business' and a trade secret."

"If you're a smoker and you're of Islamic or Jewish faith then you'd probably would want to know and there is no way of finding out," Chapman said.
The Jewish community certainly takes these matters extremely seriously and the Islamic community certainly do as well, as would many vegetarians

University of Sydney Professor Simon Chapman
Prohibited anyways
The discovery places more than 100 million Muslim Arabs in an extremely awkward situation, especially considering that several fatwas have already been issued prohibiting smoking altogether. This new information would make the previous prohibition all the more valid for Muslims.

The late Saudi scholar Mohamed bin Saleh al-Uthaymeen argued that verses from the Quran support the prohibition of cigarettes. He specifically referred to a verse that prohibits squandering money in useless things and called people who do so "profligates."

"According to Islam, money should be spent for the benefit of the people and religion and cigarettes do neither," said the fatwa.

Uthaymeen also based his fatwa on the Quranic verse that prohibits Muslims from undertaking actions that might lead to their death.

"Smoking causes fatal diseases like cancer and eventually leads to death. Thus, it is against the words of God," the fatwa added.

Cigarette filters, aimed at reducing the amount of smoke inhaled, were first invented by the Hungarian Boris Aivaz in 1925. The first filtered cigarette was produced in 1927.

In 1935, a British company started developing a machine that would produce filter-tipped cigarettes. By the 1960s, all cigarettes came filters.

Cigarette filters are made of a fine material called acetylated cellulose, extracted from crepe paper.
According to Islam, money should be spent for the benefit of the people and religion and cigarettes do neither

Saudi scholar Mohamed bin Saleh al-Uthaymeen