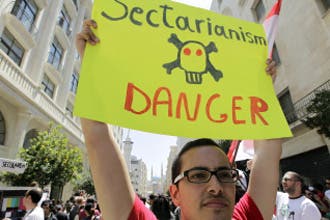 Lebanese stage first pro-secular demonstration
Civil marriage not civil war, say secular Lebanese
Thousands of people marched in Beirut on Sunday to demand a secular system in place of the Muslim-Christian sectarianism that permeates politics, employment and family status matters in Lebanon

Laique Pride was organized by a leftist organization, No Frontiers, along with students in the American University in Beirut's Secular Club. No Frontiers received permission from the municipality to hold their pro-secular, non-sectarian march - beginning at 11 AM, from Ain el-Mreisse, on the corniche in west Beirut, to the Lebanese Parliament in downtown (Solidere, the Beirut Central District).
The 2000-2500 strong crowd, headed towards the Parliament, chanting slogans, waving banners, and posing for publicity, before it was eventually prevented by the police and Lebanese army, festooned with machine guns, from progressing further, and it eventually dispersed.

A few students that are a part of No Frontiers and the Secular Club, took time to lead the crowd in anti-sectarian chants and calls for freedom, with megaphones.

During breaks, a song by the French Lebanese rapper Rayess Bek, recorded in solidarity with the marchers, blared through speakers.

Not only was the crowd largely middle and upper class, but overwhelmingly leftist as well, with members of the Communist Party being in the crowd.
Queer representation
In addition, Beirut's queer community (gay and lesbian), members of the queer organization Helem, was well represented, though still a minority among the masses congregating.

Despite the word 'pride' being in the name of the organized march, it was hardly a gay and lesbian pride rally. However, due to the fact a secularist system is in their best interests, members of the activist queer community clearly saw it in their best interests to be involved.

"Civil Status Not Civil War," "Choices lost in religion," "Queers for Secularism," "La laicite pour la citoyennete," and "Queer Bride" were among the banners and emblems carried by the mostly young, educated protesters who gathered in response to a campaign on the Internet social networking sites twitter and facebook.com.

Many wore white T-shirts with "What's your sect?" written on the front and "None of your business" on the back.

"We cannot live in a country where Lebanese university teachers cannot be hired full-time unless they fit the quota of the year," said Kinda Hassan, one of the march organisers.

"We cannot live in a country where they divide the chairs of the ministers according to their confessions, not their merits."

Lebanon's democracy has been undermined by its sectarian, consociational political system, a power-sharing form that guarantees group representation, and an unwillingness to question and undermine the unwritten National Pact, which privileged Christians (especially Maronite Catholics) over Muslims Sunni and Shiite, Greek Orthodox Christians, and others.

Although the Taif Accord (which ended the civil war) provided the groundwork for the eventual dissolution of the sectarian system, it consecrated and institutionalized sectarianism.