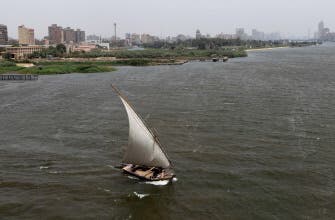 New Nile agreement a wake-up call for Egypt
Agreement is by five African states on water sharing
A new agreement by five African states on Nile water sharing has been a wake-up call for Egypt, which has long considered the river its own, analysts say.

Until now, Cairo had distanced itself from any discussion that would change the favorable terms of treaties signed in 1929 and 1959, guaranteeing the lion's share of Nile waters to Egypt.
The new agreement by Ethiopia, Kenya, Rwanda, Tanzania and Uganda, that is more favorable to their interests, is considered a "death sentence" for Egypt, which is now trying to engage in discussions to ensure it is not left out of a process that is vital to its future.

Ethiopian Prime Minister Meles Zenawi stressed on Thursday that his country did not intend to back down from the new agreement over water sharing, and invited Egypt to make concessions.

"Some people in Egypt have old-fashioned ideas based on the assumption that the Nile water belongs to Egypt," Zenawi recently told media.

"The circumstances have changed and changed forever," he said, adding that "the way forward is not for Egypt to try to stop the unstoppable. The way forward is to seek a win-win solution through diplomatic efforts."

Egypt's 80 million inhabitants draw about 90 percent of their water needs from the Nile. Cairo maintains that, even by the favorable terms of current agreements, its water needs cannot be met by the Nile alone after 2017.

"The announcement (of the new agreement) is considered by the majority of Egyptians as a death sentence to a nation that has long been described as 'the gift of the Nile,'" the University of Cairo's Nader Noureddine wrote in the Al-Ahram weekly on Thursday.

Initially, after the new agreement by the five African states, Egypt launched an urgent diplomatic offensive, hardening its alliance over the issue with Sudan, another recipient of Nile largesse under existing treaties.

Egyptian President Hosni Mubarak raised the subject in Rome on Wednesday, while the Egyptian press denounced Italian companies involved in Nile water projects, particularly in Ethiopia.

Italian Prime Minister Silvio Berlusconi reassured Mubarak, saying: "We pledged... to undertake diplomatic moves towards certain countries, starting with Ethiopia, with whom there are still outstanding problems, primarily with regard to the use of Nile waters."

Always active on the diplomatic front, Kenyan Prime Minister Raila Odinga is expected in Cairo on Saturday, and Egyptian delegations are awaited in Ethiopia and Uganda.

The president of the Democratic Republic of Congo, Joseph Kabila, and Burundi's Pierre Nkurunziza, two countries of the Nile basin which have stayed out of the face-off with Egypt, are also expected in Cairo over the coming weeks.

A new text is intended to reconsider the two treaties of 1929 and 1959, which grant the rights to 55.5 billion cubic meters (two trillion cubic feet) of Nile waters to Egypt, and 18.5 billion cubic meters to Sudan, on the whole accounting for 87 percent of the Nile's water flow.

The 1929 treaty granted Egypt veto power on projects upstream, dams, pumping stations, large irrigation works, which could reduce the river flow.

At home, there is also pressure on the Egyptian leadership, which is accused of neglecting its African partners for too long.

"What is occurring at present is the result of Egypt abandoning its role in Africa," said political economist Amr el-Chobaki.

"During the past 40 years, the government thought that it was enough to maintain a relationship with the North, and that it was unnecessary to remain engaged in the countries of the South," he added.

Nabil Abdel Fatah of the Al-Ahram Centre for Strategic Studies echoed the point. "We owe better understanding to our partners, and to remember that we are also Africans, not only Egyptians or Arabs," he said.
Some people in Egypt have old-fashioned ideas based on the assumption that the Nile water belongs to Egypt

Ethiopian Prime Minister Meles Zenawi