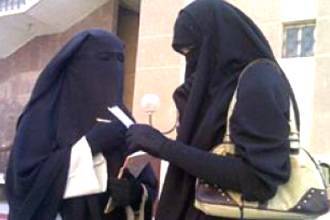 Syria suspends fully veiled school teachers
Decision protects state secularism: Education Minister
Hundreds of Syrian teachers wearing the face veil were dismissed from their schools as the Ministry of Education said they undermine the secularism of the state, according to press reports Tuesday.

Syrian Minister of Education Ali Saad said in a meeting with heads of Teachers Syndicate offices that the dismissal of 1,200 teachers who wear the face veil, also called the 'niqab,' was necessary, the Lebanese daily As-Safir reported Tuesday.

"Other ministers are going to do the same thing shortly," he said.
Saad justified his decision by arguing that the face veil is not in line with the secular policies followed by the state as far as education is concerned.

"Education in Syrian schools follows an objective, secular methodology and this is undermined by wearing the face veil."

He also pointed out that the face veil disrupts the teaching process as it hinders eye contact, which is extremely important for the relationship between teacher and student. Therefore, information is not delivered properly to the students.

The ministry's decision affected teachers in various parts of Syria, especially the governorates Rif Dimashq in the south west and Aleppo in the north where teachers in nearly 300 schools in each were dismissed.

The number dwindled remarkably in the capital Damascus, while some governorates were not affected at all like Quneitra in the south.

The dismissed teachers, half of which have contracts with the ministry, were transferred to the Ministry of Local Administration, especially in the municipalities.

Several of the dismissed teachers submitted complaints which the minister promised will be thoroughly studies.

"We will look into their complaints and all they won't lose their rights," he said.
Education in Syrian schools follows an objective, secular methodology and this is undermined by wearing the face veil

Syrian Education Minister Ali Saad

The ministry's decision was treated with enthusiasm by both the public and the intelligentsia and especially by feminists as concerns about the spread of extremism has been lately on the rise.

The feminist website Syrian Women Observatory said that the face veil is a sign of going back to the dark ages and constitutes a call for extremism and warned of its negative impact on students, especially children.

The niqab, the website added, also erases women's identity under the name of religion and that is why the ban should not only be confined to schools.

"Eliminating women's identity through covering their faces has nothing to do with religion, whether Islam or Christianity or any other faith."

The website compared the face veil to other edicts that are issued under the name of Islam like the controversial fatwa about adult breastfeeding and which stirred the indignation of Islamic scholars and secular intellectuals alike.

(Translated from Arabic by Sonia Farid).

Eliminating women's identity through covering their faces has nothing to do with religion, whether Islam or Christianity or any other faith

Syrian Women Observatory