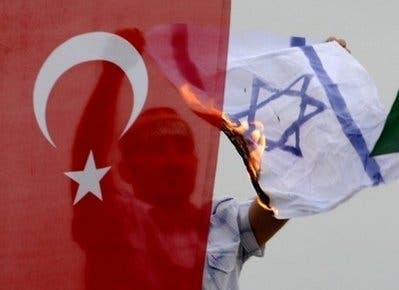 Turkey to cut ties with Israel if no apology
Israel says refuses to apologize for self-defense
Israel will never say sorry for defending itself, a senior government official said on Monday after Turkey demanded an apology for a deadly commando raid on an a Turkish aid ship bound for Gaza.

"Israel will never apologize for defending its citizens," the official told AFP.
"Of course, we regret the loss of life but it was not the Israeli side that initiated the violence."

His remarks were made after Turkish Foreign Minister Ahmet Davutoglu vowed Ankara would sever diplomatic ties with Israel unless it apologized over the operation which left nine people dead, all of them Turkish nationals.
But Israeli officials reacted angrily to Turkey's threats.

"When you want an apology, you don't use threats or ultimatums," foreign ministry spokesman Yigal Palmor told AFP.

"Everything leads us to believe that Turkey has another agenda in mind," he said, without giving further details.
When you want an apology, you don't use threats or ultimatums

Israeli foreign ministry spokesman Yigal Palmor
Ties will severed
Davutoglu told Turkey's Hurriyet newspaper diplomatic ties will be severed unless Israel apologizes for the May 31 attack or admits the raid was unjust.

"Israel has three paths ahead: It either apologizes, or accepts the findings from an international commission investigating the raid, or Turkey will cut off ties," Davutoglu told Hurriyet newspaper.

Once Israel's closest Muslim ally, Turkey has said several times it wants Israel to apologize over the May 31 raid, pay compensation, agree to a U.N. inquiry into the incident and lift the blockade of 1.6 million Palestinians living in Gaza Strip.

Turkey has said before it was reviewing ties with the Jewish state. But Davutoglu's words are the first time Ankara has explicitly threatened to sever ties unless its demands are met.

Israel has opened its own inquiry.

"If this commission concludes that the raid was unjust and if they apologize, that will be sufficient," Davutoglu said, although he insisted that Turkey wanted compensation from the Jewish state.

Davutoglu met Israel's Trade and Industry Minister Benjamin Ben-Eliezer last week in Brussels in talks aimed at mending fences. Turkey said then it had told Israel what it should do to repair ties.

"The messages conveyed to Ben-Eliezer have reached the Israeli government. We will not wait forever for an answer," Davutoglu told Hurriyet's Monday edition.

"It will be enough if their own commission rules that the raid was unfair and they apologise in line with the commission's verdict, but we have to see the verdict first."

Nine Turkish pro-Palestinian activists were killed when Israeli commandos stormed the Turkish-flagged ship Mavi Marmara on May 31 as part of an operation to stop a relief aid flotilla headed for Israeli-blockaded Gaza.

Turkey withdrew its ambassador to Israel, cancelled joint military operations and barred Israeli military aircraft from Turkish airspace after the incident.

Israel has three paths ahead: It either apologizes, or accepts the findings from an international commission investigating the raid, or Turkey will cut off ties

Turkish Foreign Minister Ahmet Davutoglu