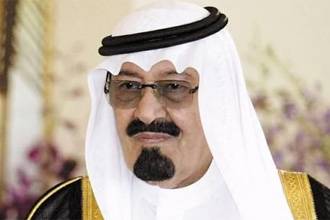 Saudi king limits clerics allowed to issue fatwas
King Abdullah bids to organize religious edicts
Saudi King Abdullah bin Abdul Aziz on Thursday ordered that public religious edicts, or public fatwas, be issued only by clerics he appoints, in the boldest measure the monarch has taken to organize the religious field.

Timid efforts by the absolute monarchy to modernize the deeply conservative country have led to profusion in fatwas from scholars and mosque imams in the country, who use the Internet to publicize them as they fight what they perceive as the westernization of the country.

This abundance depicted growing divisions among pro-reformist clerics and more conservative clerics, a trend which diplomats say was bound to worry Saudi authorities seeking to fight militancy and the ideology that breeds it.
The ruling comes during the first week of Ramadan, the holy fasting month for Muslims worldwide.

Because Saudi Arabia hosts Islam's holiest shrines, fatwas from the Saudi clerics are often revered and followed by clerics in other parts of the Muslim world.
Limiting fatwas
"We have noticed some excesses that we can't tolerate, and it is our legal duty to stand up to these with strength and resolve to preserve the religion, the dearest of our belongings," the monarch said in a royal order sent to the kingdom's Grand Mufti.

"We urge you ... to limit fatwas to the members of the High Scholars Authority and to advise on those among them who are wholly...eligible to be involved in the duty of fatwa so that we allow them to carry out fatwas," he added.

The Permanent Committee of Scholarly Research and Iftaa, which is affiliated to the scholars authority, can also be used as a pool for the selection of scholars authorized to issue public fatwas, the king added.

The royal order, a copy of which was sent to the interior and justice ministers, did not explain how authorities would prevent other scholars from issuing public fatwas on the Internet.

The order excludes however personal fatwas. These refer to requests by Muslims for advice from a scholar about personal or religious matters.

The High Scholars Authority comprises 20 members who are appointed by the king.

The limitation is necessary because many individuals have started surpassing the authority of official religious bodies and have issued fatwas that cause disputes and dissent among Muslims, the decree said.

"All those who violate this order subject themselves to accountability and punishment, whoever they are, because the interests of the religion and the nation are above anything else," the king warned in the decree.
Who can issue fatwas?
In recent months, one Saudi cleric saying music is not un-Islamic and another endorsing breastfeeding for grown men sparked a pitched battle in the ultra-conservative kingdom over who can issue fatwas.

Riyadh cleric Adel al-Kalbani said that "there is no clear text or ruling in Islam that singing and music are haram" or religiously forbidden.

Aside from some folk music, public performances of music are banned in Saudi Arabia, and conservatives say it is haram even at home.

A more senior cleric, Sheikh Abdul Mohsen al-Obeikan, raised hackles with two of his opinions, both of which could be considered to be fatwas.

First, he endorsed the idea that a grown man could be considered the son of a woman if she breast-feeds him.

The issue, based on an ancient story from Islamic texts and source of a furore last year in Egypt, is seen by some as a way of circumventing the Saudi religious ban on unrelated men and women mixing.

Obeikan also angered conservatives when he said the compulsory midday and mid-afternoon prayer sessions could be combined to help worshippers skirt the intense heat of summer.

The country's grand mufti, Sheikh Abdulaziz al-Sheikh, has warned of a fatwa crackdown, saying late June that "if a person comes out (with fatwas) and he is not qualified, we will stop him."