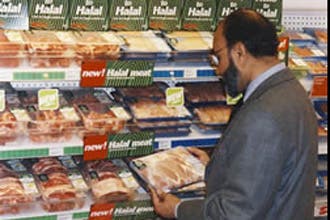 Concerns mount over French halal meat
Experts fear up to 80 pct of French halal meat is bogus
The lack of a central body in France to oversee the authenticity of halal meat has made some experts doubt that animals have been slaughtered following the correct Islamic procedures.

Estimates of the amount of meat labeled halal that does not meet the strict religious standards range from 40 to as high as 80 percent.
France has Western Europe's biggest Muslim population and producers are battling for a piece of the $7.05 billion (5.5 billion euro) halal meat market.

According to Islamic law, halal meat must come from animals blessed by a short prayer and slaughtered facing the holy city of Mecca. The animal is traditionally killed with a cut to the throat to allow the blood to drain out, with a view that the meat is cleaner.

Ala'a Gafouri of the Halal Institute of Food Management Industry (HIFMI) in Paris estimated that up to 80 percent of meat and other products labeled as halal may not meet these criteria.

"They're self-certified," Gafouri, who trains halal butchers and inspectors, said.

Kamel Kabtane, rector of the Grand Mosque of Lyon, estimates about 40-50 percent of halal products sold in France have not been rigorously verified.

Neither expert gave details of how their estimates were made.

There is no central body to check the authenticity of halal products and no single standard that all Muslims agree on, making it difficult to determine the authenticity of halal products.
Oversight
The government has authorized only the grand mosques in Paris, Lyon and Evry to oversee ritual halal slaughter and certification, but unofficial groups around the country have emerged to issue their own stamps of approval.

"What we are witnessing is a purely market-driven drift because some have seen a potential for profit," said sociologist Dounia Bouzar, who said a growing number of Muslims in France believed "if they don't eat halal, they'll go to hell".

France's official Muslim council (CFCM) wants the country's mosques and Islamic groups to come together to agree on a national charter that lays out clear guidelines for halal meat to help French Muslims when they are making purchases.

The halal market is twice as large as that for organic foods in France, where five million Muslims live, and is expected to grow by 20 percent annually as the Muslim middle class expands.

A recent poll found 60 percent of French Muslims regularly buy halal products, a category that includes canned meals and cosmetics certified free of meat-based ingredients.

Cheikh Al Sid Cheick, assistant to the rector of the Grand Mosque of Paris, said sticking "halal" labels on food packaging was a way for producers to catch the Muslim consumer's eye.

"But that doesn't mean they can do whatever they want," he said. "We need one set of specifications, one certification and one logo."

The issue is sensitive at a time when the government wants to ban full Muslim face veils and tighten immigration laws. It highlights the difficulties in adapting Islamic principles to French society.

Brigitte Bardot, the actress and animal-rights activist known for her racially charged views, told Europe 1 radio last week that halal meat was taking over local markets and "should not be imposed on French consumers".

Animal rights activists have called for an end to the Jewish and Muslims ways of slaughtering animals, saying bleeding them to death causes severe suffering to the animals.
What we are witnessing is a purely market-driven drift because some have seen a potential for profit

sociologist Dounia Bouzar