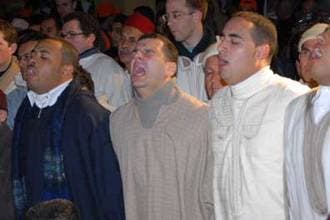 Morocco fights Islamist extremism with Sufism
Government organizes Sufi seminars and festivals
The rise of Jihadist trends and Salafi political parties as well as growing concerns about Islamism drove the Moroccan government to embark on a plan to support the Sufi movement in the country.

By virtue of its focus on religious practices, Sufism, a type of Islamic, mysticism, is a trend that does not aim at intervening in politics or public affairs unlike other emerging Islamic parties in Morocco. Absence of political ambition among Sufi groups has made them the Moroccan government's way of choice to fight extremism.
Financial support is among the government's strategies to encourage the spread of Sufism in Morocco. This is basically done through issuing royal donations in the name of King Mohamed VI to "zawyas," shrines in which Sufis perform their rituals.

Promotion of Sufism in the media is another of the government's ways to boost the trend. TV shows are dedicated to broadcasting Sufi "dhikr," Arabic for "remembrance," in which Sufis engage in devotional dancing, recitation, and meditation ceremonies for the purpose of remembering the blessing of God.

A series of lectures and seminars have also been launched recently in order to familiarize Moroccans with the principles of Sufism and the philosophy behind its practices.
Clashing powers
Dr. Rashid Moqtader, an expert in Moroccan Islamic movements, said that the way the Moroccan government deals with emerging powers has always depended on the nature of those powers and their influence in the political scene,

"The state uses one power against another whether directly through financial, legal, or moral support or indirectly through facilitating legal or judicial procedures or even overlooking certain violations," he told Al Arabiya.

Moqtader cited the government's support for Islamists in 1970s in order to counter the growing influence of leftist trends and the empowerment of Salafi movements to fight opposition parties like the Justice and Benevolence Party which was known for its Sufist disposition.

For Moqtader, the decision to use Sufism to tone down the influence of Jihadi movements seem to be an internal matter, yet is strongly related to the strategy followed by the United States since the Sept. 11 attacks.

"In addition to military incursions, the United States has been resorting to Sufism to fight al-Qaeda and similar organizations throughout the Muslim world."
The state uses one power against another whether directly through financial, legal, or moral support or indirectly through facilitating legal or judicial procedures or even overlooking certain violations

Expert in Moroccan Islamic movements Dr. Rashid Moqtader
Support for Sufis, Moqtader added, is not only directed at Salafi movements that do not have a legal presence in the political scene, but also legalized opposition parties with Islamist ideologies like the Justice and Development Party and the Unity and Reform Movement.

"When those powers clash together, they come out exhausted and only the ruling elite remains powerful."

One of the major steps the government took to promote Sufism, Moqtader pointed out, was the appointment of Ahmed Toufiq who belongs to the Sufi order called al-Tariqa al-Qadiriya al-Boutshishiya.

"In addition, the government has been organizing the Sidi Chiker Meeting of Adherents of Sufism and which it strives to turn into an international event."
Political passivity
Dr. Abbas Boughanem, expert in Islamic movements and Sufism, said that the government is currently sponsoring Sufism as an educational rather than a religious trend.

"Because Sufis are generally not interested in politics and are totally involved in their rituals, they can teach people who follow them some kind of political passivity," he told Al Arabiya.

By being involved in religious rituals while displaying no political opposition, Boughanem added, Sufism also instills in people the idea that there is no contradiction between being religious and pledging allegiance to the state.

This contradicts the principles of Salafi movements which see the modern state as a violation of Islam and demand the politicization of the religion through applying Sharia (Islamic law).

"The government is, therefore, involved in a plan to restructure the entire religious scene in Morocco," Boughanem said

Boughanem cited more examples of state support of Sufism like organizing local and international seminars, some of which are under the auspices of the king, and music festivals that focus on Sufi singing like the Spiritual Music Festival held annually in the city of Fez.



(Translated from the Arabic by Sonia Farid)
Because Sufis are generally not interested in politics and are totally involved in their rituals, they can teach people who follow them some kind of political passivity

Expert in Islamic movements and Sufism Dr. Abbas Boughanem