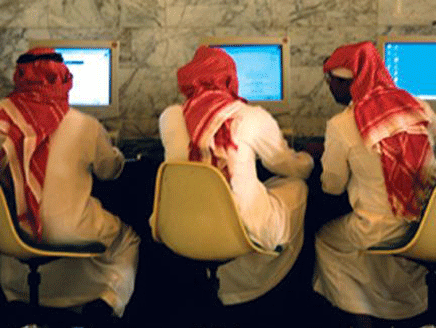 Saudis must apply for govt license to start blogging
Information ministry says move is not to censor
Licenses are now required for starting any e-publishing site in Saudi Arabia, after a regulatory change made by the country's culture and information ministry.

The new conditions for anyone to open a blog, an online newspaper, or any similar forms for e-publishing, must be of a Saudi nationality, over 20 in age, and must have a high school or higher qualification aided with a good record of appropriate bahvior conduct, and a license from the ministry.

All license holders must publicly display their license information on their websites. Editors must receive a special approval from the ministry, in addition to having to require obtaining a license.
Abd al-Rahman Huza', spokesman of the ministry, told AlArabiya.net that the new change is made to bridge communication between the ministry and individuals using the various forms of the e-publishing sites, adding that "it is for organizational supervision and not to supervise or censor."

Huza' emphasized that supervising and censoring contents were before the change, and it will not stop.

Contrary to reports that say failure to comply with the new licensing regulation can result in fines or can subject the non-complier's site to be partially or fully blocked, Huza' said "we are offering people to register, and no one will be charged for not registering. "

"We only need a name and a telephone number if possible," he added.
News websites support decision
Fahad al-Harithi, an editor-chief from al-Wi'am newspaper said that he was happy for the new regulation to take place as it will protect the newspapers' intellectual rights.

Al-Harithi also reiterated the ministry's spokesman's statement that it is more of an organizational move than to supervise or censor.

But Ahmed al-Omran, blogger of the popular, Saudi Jeans, described the move as a bad idea, and said "it is impossible to fully control and centralize what is going on online."

"I think the ministry noticed lately that there many news websites that started appearing and spreading, and are all not under their control," al-Omran added.

Asked of why news websites are welcoming the new regulatory move, he said that "the owners of such websites do not think of independency or getting rid of supervision, they only think of profit."

"They are not under any organizational mode right now, and that's why they are not getting enough profit reaps from adds."

Saudi Arabia has the second largest blogger population in the Arab World, and has witnessed an increase by 240 percent since the beginning of 2011 of Twitter users, the social networking and micro blogging website.

Twitter told al-Sharq al-Awsat newspaper that the estimate of the rate of increase in the daily circulation of so-called 'Tweets', specifically messages shared by users in Saudi Arabia, has reached 440 percent, in comparison to 95 percent of the global average increase.