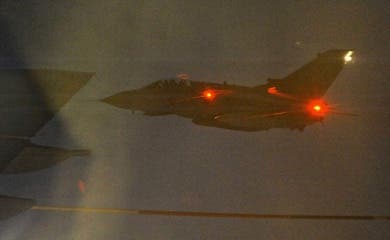 Arab warplanes taking part in Libya mission
No-fly zone over Libya effectively established
Four Qatari warplanes were deployed in Libyan skies on Sunday, the French defense ministry said, as other Arab warplanes were moving to positions near Libya to participate in the Western military operation that has effectively established a no-fly zone.

Adm. Mike Mullen, chairman of the U.S. Joint Chiefs of Staff, on Sunday said aircrafts from Qatar were moving into position near Libya to participate in the Western military operation that has effectively established a no-fly zone.
"There are forces, airplanes in particular from Qatar, that are moving into position as we speak, into theater. There are other countries who have committed, although I'd rather have them publicly announce that commitment," he said in an interview with CBS' "Face the Nation" program.

Meanwhile, aircraft from the United Arab Emirates were due to arrive Sunday at the Decimomannu air force base on the Italian island of Sardinia, which is already hosting four Spanish F-18 fighter jets that arrived on Saturday.


A French armed forces spokesman said 15 French combat aircraft took part in allied patrols on Sunday but they did not have to fire at airborne or ground targets because they met no resistance

French warplanes encountered no opposition in enforcing a no-fly zone over Libya, the spokesman told a media briefing.

France, which Saturday spearheaded the UN-mandated Operation "Odyssey Dawn" with air strikes on Libya, Sunday also sent its aircraft carrier Charles de Gaulle to join the campaign.

The French Navy's flagship set off from the southern French naval port of Toulon at about 1:10 pm (1210 GMT) and was expected to reach the Libyan coast within 48 hours.

In the West's biggest intervention in the Arab world since the 2003 U.S.-led invasion of Iraq, mounted exactly eight years earlier, U.S. warships and a British submarine fired more than 120 Tomahawk cruise missiles into Libya on Saturday.
There are forces, airplanes in particular from Qatar, that are moving into position as we speak

Adm. Mike Mullen
Gaddafi stays defiant
to warn Sunday of a long war in the Mediterranean "battlefield" as Tripoli reported dozens of deaths.

Italy is providing seven air bases as key staging points for strikes by Western-led coalition forces to destroy Libya's air defenses and impose a no-fly zone to prevent Gaddafi's forces from crushing a popular uprising.

The United Arab Emirates, along with Jordan, Morocco and Qatar, was among Arab nations that took part in a summit in Paris on Saturday on the Libyan crisis.

Three AWACS radar planes are stationed at the Trapani base in western Sicily along with Italian ECR Tornado jets specializing in destroying anti-missile and radar defenses.

Tornado IDS attack jets were deployed at the Ghedi air base in northern Italy along with Eurofighter jets at Grosseto air base in central Italy.

Sunday, Four Danish F-16 fighter jets took off from Italy's Sigonella Air Force base in Sicily for Libyan airspace, Danish public radio DR reported.

Denmark's contribution to the international military action in Libya -- four F-16 fighter jets, two reserve planes (also F-16 fighter jets) and a transport plane -- arrived at the Sigonella air base Saturday.

U.S. F-15 and F-16 jets are also deployed at Sigonella.
No central command
Coalition forces are coordinating their actions but there is no central command organizing the attacks, a source in the French defense ministry said Sunday.

"There is no centralized headquarters, and at this stage everyone is using their own headquarters in a coordinated manner," the source said.

The French are operating out of Mont Verdun, near Lyon in the east of the country, where the air force has its chief air defense control centre.

The British headquarters are at Northwood, in the suburbs of London, and those of the United States at Ramstein in southwest Germany.

The American HQ has the "greater planning capacity," the source said.

Allied forces have ruled out any ground operations inside Libya.

Sunday, Italian Defense Minister Ignazio La Russa said Rome assigned eight combat aircraft, including four Tornado jets, for the operation that could be used "at any time," while Belgium said six of its F-16 fighter-bombers would be operational Monday.

London said British Typhoon and Tornado jets flew Saturday to the Gioia del Colle air base in southern Italy.

In Saturday's raids, British Tornado jets flew directly to Libya from England, but British Defence Secretary Liam Fox told the BBC: "It's obviously easier if we have access to bases closer to where the targets are and where the no-fly zone is."

Support aircraft such as the VC10 air-to-air refueling aircraft and the Sentinel surveillance aircraft are at Akrotiri, Britain's base in Cyprus.

Two British frigates are also in the region -- HMS Westminster was off the coast of Libya, and HMS Cumberland was in the region ready to support operations.

The United States has two U.S. missile-launching destroyers -- the Barry and the Stout -- stationed in the Mediterranean and will on Wednesday send its helicopter carrier Bataan and two support vessels to replace other ships in the area.

In addition to its four F-18 fighter jets, Spain sent a refueling aircraft to Italy and said it would also deploy an F-100 frigate, an S-74 submarine and a CN-235 maritime surveillance plane to help enforce an arms embargo on Libya, once parliamentary approval has been received.

Spain had already announced on Friday it would allow NATO to use two military bases, at Rota and at Moron de la Frontera in the south of the country, for the operation over Libya.

Canada is deploying six CF-18 fighter jets, along with up to 150 pilots, ground crews and other support staff.
There is no centralized headquarters, and at this stage everyone is using their own headquarters in a coordinated manner

A source in the French defense ministry