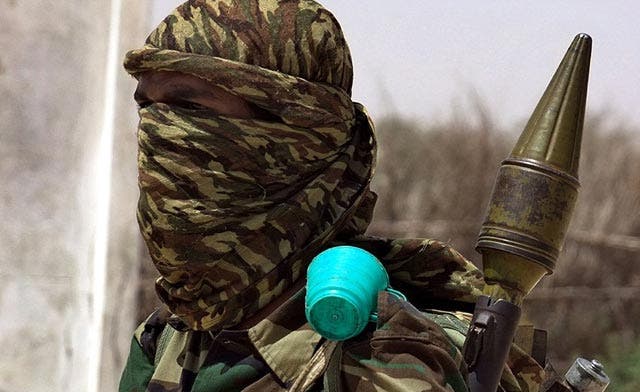 Al-Shabaab threaten reprisals as Kenyan troops push into rebel-held Somalia
Hundreds of Kenyan troops ventured deep into Somalia Monday to hunt al-Shebaab fighters blamed for a spate of kidnappings, prompting the al-Qaeda group to threaten reprisals in the heart of Nairobi.

Backed by aerial bombings and guided by pro-government Somali forces, Kenyan troops moved deeper into southern Somalia, a day after Nairobi declared war on the al-Shebaab militia and confirmed that it had sent its army across the border.

Kenyan soldiers were reported near the village of Qoqani, some 50 miles inside southern Somalia, an al-Shebaab stronghold.

"The Kenyan troops supported by tanks and other military vehicles have taken up positions near Qoqani," said Saleban Mohamed, an elder in a nearby village.

"I saw around 32 trucks and tanks, with hundreds of troops," he added.

"The Kenyan soldiers are heavily armed and they have started digging trenches near Qoqani," Abdulahi Sayid Adam, another witness said.

"The Kenyan forces have crossed about 100 kilometers deep into Somalia and in some cases their military aircraft have bombed inside Somalia. If they continue this way, they will regret and feel the consequences back home," al-Shebaab spokesman Sheikh Ali Mohamud Rage told reporters at a press conference.

"Kenya has peace, its cities have tall buildings and business is booming there, while Somalia is in chaos. If your government ignores our calls to stop its aggression on Somali soil, we will strike at the heart of your interests," he said, addressing the Kenyan population.

Kenya confirmed Sunday that its forces crossed the border into war-torn Somalia to fight hard-line al-Shebaab forces they accuse of kidnapping foreigners.

Hassan Turki, a senior southern al-Shebaab leader, immediately promised that his men would force the Kenyan troops "to test the pain of the bullets."

Al-Shebaab fighters were reported Monday to be boosting defenses and sending "hundreds" of fighters towards Kenyan and government positions.

"I saw around 50 trucks and pickup trucks mounted with machine guns, with hundreds of fighters heading towards the Kenyan border," Abdi Jumale, a resident in the al-Shebaab-held port of Kismayo told AFP by telephone.

Al-Shebaab commanders confiscated at least a hundred trucks late Sunday from the Lower Shabelle region, outside the capital Mogadishu, to transport gunmen southwards towards the battle zones, witnesses said.

"Many trucks were taken by al-Shebaab from civilians to transport fighters, they are heading towards the Juba regions," a witness in the al-Shebaab-held Afgoye district near Mogadishu told AFP, asking not to be named for security reasons.

"They have collected all weapons near Afgoye, and gathered hundreds of young fighters to face their enemy," another witness said.

Five Kenyan soldiers died when their military helicopter providing air cover for ground troops crashed late Sunday due to reported "technical problems" near Liboi, just inside Kenya's border, army spokesman Emmanuel Chirchir said.

The assault came after Kenya's Internal Security Minister George Saitoti vowed to attack the al-Shebaab "wherever they will be."

In the past five weeks a British woman and a French woman have been abducted from beach resorts in two separate incidents, dealing a major blow to Kenya's tourism industry.

On Thursday, two Spanish aid workers were seized by gunmen from Kenya's crowded Dadaab refugee camp, the world's largest with some 450,000 mainly Somali refugees.

It was unclear how long Kenyan troops planned to stay in Somalia but Nairobi had been under growing pressure to take action and attempt to restore confidence that it could safely host tourists and one of the world's largest aid communities.

The al-Shebaab had long refrained from carrying out attacks inside Kenya, which observers argued was useful to them as a logistical and financial base.

While Kenya troops have frequently been reported to have crossed the long porous border in recent years, Nairobi had never confirmed any involvement and was always cautious to minimize its exposure to reprisals.

In July 2010, the al-Shebaab group claimed responsibility for suicide attacks in central Kampala that killed at least 76 people in what it said was retaliation for Uganda's leading role in the Mogadishu-based African peace force.

The al-Shebaab had repeatedly warned similar attacks would target any regional power sending forces to support the Western-backed Somali government.
East Africa's biggest economy has long looked nervously at its anarchic neighbor and its troops have made brief incursions into Somali territory in the past.

The latest operation appeared to be a significant escalation in military involvement but one which also risks dragging Kenya deeper into Somalia's two-decade civil war and raises the risk of retaliatory attacks on Kenyan interests by al-Shabaab.

Somali Colonel Janwaase Mahdi told Reuters his soldiers were advancing on the town of Afmadow, near an al-Shabaab base hit by air strikes on Sunday. A Somali military commander said the rebels later fled the area.

Keen to avoid a spillover of violence by al-Qaeda-trained foreign jihadists seeking haven in Somalia as well as al-Shabaab rebels entrenched in the south, Nairobi has in the past contemplated creating a buffer zone along its border.

Kenya has already trained thousands of newly recruited Somali soldiers to man the frontier. It also provides logistical and intelligence support to Somali government troops and government-friendly militia.