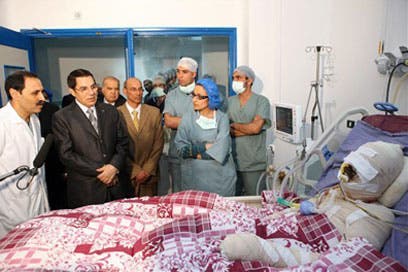 Thousands bury Tunisian whose protest sparked unrest
Around 5,000 marched behind his funeral
Thousands of people vowing revenge attended the funeral Wednesday of a young Tunisian who died after setting himself alight in a protest over unemployment that sparked a wave of unrest, witnesses said.

Mohamed Bouazizi, a 26-year-old university graduate, died Tuesday from burn wounds after dousing himself in petrol and setting himself alight on December 17 in the central Tunisian town of Sidi Bouzid.

His protest touched off a wave of unrest and clashes that rattled government in tightly controlled Tunisia.
A crowd estimated at around 5,000 marched behind his funeral procession to the Garaat Bennour cemetery, 16 kilometers (10 miles) from Sidi Bouzid, labor official Kamel Laabidi, who was in the procession, told AFP.

He quoted the marchers as chanting: "Farewell, Mohamed, we will avenge you. We weep for you today, we will make those who caused your death weep."

The angry crowd also railed against the high cost of living "which drove Mohamed to take his own life" and chanted "shame on the government," he added.

A massive police presence prevented the protesters from reaching the governor's office, where Bouazizi had doused himself with petrol, according to the victim's uncle, Mehdi Horchani.

"Mohamed gave his life to draw attention to his condition and that of his brothers," he said, describing a "deep sorrow and a feeling of injustice felt by all."

Despite his education, Bouazizi was forced to sell fruit and vegetables on the street in the Sidi Bouzid region to earn a living.

After police confiscated his produce because he did not have a proper permit, he burned himself in protest.

Unrest and clashes then erupted across Tunisia, with a teenager shot dead by security forces in one protest, several people wounded and cars and buildings set alight.

"Mohamed has become the symbol of the rejection of unemployment and contempt, and his death risks exacerbating the already tense situation in Sidi Bouzid and the surrounding areas," said a diplomat on condition of anonymity.

The Paris-based International Federation of Human Rights Leagues, announcing Bouazizi's death, said the underlying causes of the unrest should be looked into.

The health ministry also announced his death in a statement on the official TAP news agency that recalled that President Zine al-Abidine Ben Ali had visited Bouazizi in hospital in late December.

On December 22 another young man, Sidi Bouzid, climbed up an electricity pylon and electrocuted himself on the cables, saying he was fed up with being unemployed.

The government would not confirm the suicide, but ordered a judicial investigation into the circumstances of his death.

The worst day of the rioting was December 24, when thousands of people took to the streets and torched the local headquarters of the national guard, which responded with gunshots that killed an 18-year-old protestor.

Protests spread to the capital Tunis in late December.

Ben Ali has said he was concerned by the tensions but also accused the opposition of exploiting the situation and exaggerating the scale of the protests, and foreign media of dramatizing events.

He sacked three government ministers and the regional governor of Sidi Bouzid, as well as those of other regions, as the unrest continued.

Civil groups and the opposition in Tunisia say the protests are driven by high unemployment and high prices of raw materials, and have called for radical reforms.

Tunisia's unemployment rate is officially 14 percent, but the percentage of graduates without work is about double that, and has prompted a warning from the International Monetary Fund.
Mohamed has become the symbol of the rejection of unemployment and contempt, and his death risks exacerbating the already tense situation in Sidi Bouzid and the surrounding areas

An anonymous diplomat
Activists hit Tunisia govt websites
An Internet activist group has targeted several Tunisian government websites in protest at what it says is "an outrageous level of censorship" by the north African state's administration.

"Anonymous," which recently attacked sites and services it deemed opposed to the whistle-blowing site WikiLeaks, has managed to shut down the government's official website, the national stock exchange site, and other sites.

"In addition, we have taken steps to ensure that Tunisians can connect anonymously to the Internet and access information that their government does not want them to see," the loose-knit group said in a statement.

The group said it had launched DDoS attacks -- in which a large number of computers are commanded to overwhelm a website's servers and slow service or knock it offline completely -- against official Tunisian websites.

It said it was doing so to highlight the government's "outrageous level of censorship, not only blocking the websites of dissident bloggers but also sites like Flickr and any website or news source mentioning Wikileaks."

Media rights watchdog Reporters without Borders ranks Tunisia 164th out of 178 countries in its press freedom index.