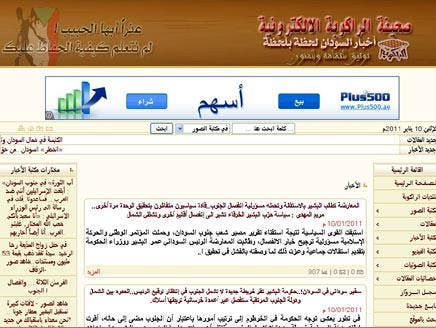 Northern Sudanese express grief on south's breakaway
Sudanese troubled by Darfur, peaceful coexistence
As the secession referendum enters its second days and South Sudan gets closer to becoming an independent state, the internet has become Sudanese people's, especially northerners,' means of expressing their feelings and views on seeing their country split in two.

Al-Rakoba electronic newspaper, frequented by thousands of Sudanese readers every day, features some of the grief felt by the northern Sudanese after the secession of south became almost a reality.
With a banner that reads, "Sorry, beloved homeland. We could not keep you intact," al-Rakoba features a variety of articles that hold both the ruling National Congress Party (NCP) and the Sudan's People Liberation Movement (SPLM) accountable for the disintegration of Africa's largest nation.

"They separated the south and Darfur is next," wrote Ali Ibrahim. "This is the worst time in Sudan's history because its geography is changing."

Ibrahim added that the South is part and parcel of the identity of every Sudanese citizen and argued that the division will come to an end when those who caused it are no longer in power.

The website Sudanese Online has been following up on the possible secession for years so that it now features a complete archive for future generations, said website owner Bakri Abu Baker.

"This website has for years been the meeting point of all the Sudanese from both north and south," he said. "They both shared their views on the problems of the homeland here."
They separated the south and Darfur is next

Ali Ibrahim
Ahmed al-Qorashi, a doctor residing in the Gulf region, expressed his sorrow for the separation and stressed that he has loved all his Sudanese compatriots regardless of their color, race, or religion.

"I felt like part of my body was amputated," he said. "This pain will stay with me for years to come."

In the Sudanile online forum, several users called for peaceful coexistence between north and south despite the obstacles that might hinder this in the beginning like citizenship issues, foreign debt, and the disputed region of Abyei.

The Voice of Sudan, launched in April 2010, allows Sudanese citizens to send the latest updates on the voting to the website via mobile text messages. Users also upload videos that trace the progress of the referendum.

"We offer what is happening right now," said Voice of Sudan spokesman Farid Zein. "We want all citizens to follow the referendum as it happens."

Voice of Sudan is the result of the cooperation of several civil society organizations under the leadership of the Sudanese Institution for Policies and Research. It is operated by the Ushahidi.com network, which started with covering the 2008 election crisis in Kenya then closely followed the elections in India, Burundi, Mexico, and Afghanistan.

(Translated from Arabic by Sonia Farid).
I felt like part of my body was amputated. This pain will stay with me for years to come

Ahmed al-Qorashi