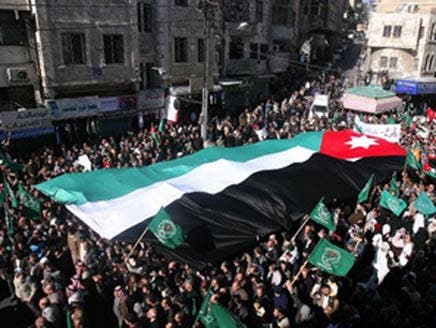 Jordan to ease restrictions on public assembly
Jordanians needed prior permission to protest
Jordan is expected to remove restrictions on public gatherings, allowing protests to take place without prior permission as part of political reforms, a minister said in remarks published on Tuesday.

Interior Minister Saad Hayel Srur asked the cabinet on Monday to amend the public assembly law and scrap an article that requires in-advance government permission to hold rallies and protests, the state-run Petra news agency said.

"Instead, organizers of such activities have to inform the authorities 48 hours in advance," Srur was quoted as saying. "The council of minister is expected to endorse the recommendation and send it to parliament for approval.
International and local human rights activists as well as the powerful Islamist opposition have repeatedly called for amending the public assembly law.

"It's a good step to help enhance political reforms in Jordan," prominent member of parliament Khalil Atiyeh told AFP.

Srour said Tuesday that protesters would still have to inform authorities of any gathering two days in advance to "ensure public safety" and that they would have to observe public order. However, he stressed that the government would no longer interfere in such matters.
It's a good step to help enhance political reforms in Jordan

Khalil Atiyeh, prominent member of parliament
Earlier protests
In street protests in the past five weeks, Muslim opposition groups, their leftist allies and independent rights activists demanded that the government remove restrictions on free speech and assembly.

Jordan's King Abdullah II responded by promising changes to pertinent laws, including a controversial election law which critics say allows the king's loyalists to dominate the legislature, the only elected national decision-making body.

Opposition leader Hamza Mansour said the change was a step in the right direction. "We're still waiting to see changes made to the election law and to have early elections held based on the new bill," added Mansour, the leader of the Islamic Action Front, the political arm of the Muslim Brotherhood.

The Brotherhood, Jordan's largest opposition group, boycotted a November vote, alleging the election law was weighed against it.

Meanwhile, about 3,000 tribal leaders and key figures - including lawmakers, retired security personnel and academicians - renewed their allegiance to the king in an emotional letter, praising his reform efforts.

The letter assured Abdullah that Jordan will "survive regional turbulence, the way it did in the last 60 years," referring to the Egyptian uprising which sent shock waves across the volatile Mideast.