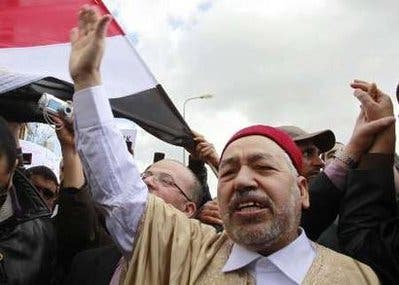 Tunisia's Islamist group legalized after 30 years
Three more Tunisian ministers step down
Tunisia's Islamist movement Ennahda, banned under the regime of Zine El Abidine Ben Ali who was toppled in January, has been legalized 30 years after it was formed, it announced Tuesday.

The interim government installed after the authoritarian Ben Ali's fall, following weeks of street protests, granted unprecedented freedoms that opened the way for the unbanning of certain groups and for exiles to return.

"The Ennahda movement has just been legalized," spokesman Ali El-Aryadh told AFP after it had received the notification from the interior ministry.

"We have waited 30 years to obtain our legalization," he said, adding it had only been achieved because of uprising that toppled Ben Ali on January 14.

"We are entering in a new phase of national action ... to contribute to the building of a democratic regime," he said.

Ennahda (Awakening) leader Rached Ghannouchi returned on January 30 after nearly 20 years in exile, mostly in London, to be welcomed by thousands of people.

He still officially has a life sentence hanging over his head for plotting against the president, although the new government has drawn up an amnesty law for convicted activists like Ghannouchi that has to go before parliament.

Ghannouchi founded Ennahda movement in 1981 with intellectuals inspired by the influential Muslim Brotherhood born in Egypt.

The group was tolerated in the initial years after Ben Ali took power in 1987 but denied legal registration.

However an Islamist-backed coalition won 17 percent of the vote in 1989 elections, even though the vote was heavily falsified, leading to a crackdown on the movement.

Thousands of activists and Islamist sympathizers were arrested in the 1990s and many went into exile as Ben Ali's authoritarian regime presented itself as a bulwark against fanaticism.

Announcing on February 1 that the movement had applied for legal recognition, Eryadh said it planned to hold a congress within months to appoint a new president to replace its historic leader, Ghannouchi.

Will not run for president
Ghannouchi has said he will not run for the presidency in elections that the interim authority has said will be held by mid-July, but his movement plans to take part in parliamentary elections.

Experts say it is hard to gauge the strength of Islamism as a political force in Tunisia as it has been banned for decades, but Islamists were its most powerful opposition force before the persecution began.

Ghannouchi is a former radical preacher who says he now espouses moderate ideals similar to Turkey's ruling Justice and Development Party (AKP).

In contrast to his preaching's from the 1970s in which he condemned the rise of secular ideas in his homeland and the advances in women's rights, Ghannouchi has said that Sharia (Islamic law) had "no place in Tunisia".

"For many years we have agreed alongside the opposition parties common ground, including approving freedom of conscience, political pluralism... and we have agreed on a paper on gender equality," he said in London before returning from exile.

Some feminist groups have worried that Ghannouchi's return may signal a rise in political Islam that could endanger their hard-won rights although the leader has said such concerns were "only based on ignorance".

Hundreds of Tunisians demonstrated on February 19 for a secular state following the murder of a Polish priest, verbal attacks on Jews and an attempt by Islamists to set fire to a brothel.

Ministers resign
Meanwhile three Tunisian ministers resigned on Tuesday, leaving the caretaker government which took over power after the president was overthrown teetering on the brink of collapse.

The new resignations meant that in the space of 72 hours the prime minister and five ministers have now quit, the worst political crisis in Tunisia since Ben Ali's ouster.

A source close to the government told Reuters that the new prime minister, Beji Caid Sebsi, will this week announce the creation of a representative council whose job it will be to rewrite the constitution before new elections.

That could relieve pressure on the government from its opponents but it was not clear if it would be enough for it to survive.

The ministers who resigned on Tuesday included Ahmed Nejib Chebbi, the regional development minister, and Ahmed Brahim, the higher education minister.

Both are opposition figures who were brought into the government after Ben Ali's overthrow. The third minister to resign was Elyes Jouini, who held the economic reform portfolio.

Tunisia has been struggling to restore stability since Ben Ali, who had been in power for 23 years, fled to Saudi Arabia in January after a wave of anti-government protests.

The revolution has provided the inspiration for uprisings in other parts of the Arab world, but Tunisia has since suffered outbreaks of violence and huge protests that have put pressure on the interim government.