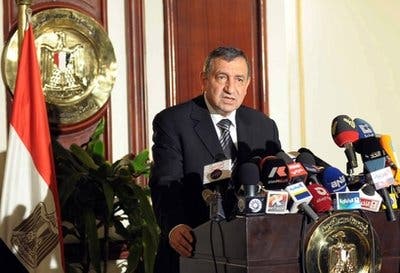 Egypt swears in cabinet following popular demands
Egypt's caretaker cabinet includes six new ministers
Ministers of Egypt's new government were sworn in on Monday by the head of the Supreme Council of the Armed Forces, Field Marshal Mohammed Hussein Tantawi, at a ceremony in the capital Cairo.

Prime Minister Essam Sharaf's government includes six new ministers including Foreign Minister Nabil al-Arabi, Oil Minister Abdullah Ghorab and those of interior, culture, justice and labour.
Sharaf, who was appointed on Thursday after demonstrations against the presence of Mubarak's associates in the caretaker government running affairs since the former president's departure, has vowed to work for a democratic system.

The reshuffle is the latest move by the countrys ruling military council to placate protesters clamoring for political changes after the ouster of Mubarak following 18 days of mass protests. Mubarak ceded interim authority to the Supreme Council of the Armed Forces on Feb. 11 after three decades in power.

The military council on March 3 asked Essam Sharaf to form a new Cabinet after premier Ahmed Shafik resigned, pressured out by demonstrators.

In a sign of the influence wielded by demonstrators, Sharaf addressed protesters in Tahrir Square the day after he was named for the job. He vowed to do his best to meet their demands and told them he derived his legitimacy from them.
Call for rights
Activists are calling for freeing political prisoners, putting on trial officials accused of corruption and dismantling the state security agency, widely accused of stifling dissent and committing human rights violations.

The new government and the ruling council now face the challenge of responding to demands for change while jumpstarting an economy hard hit by the unrest and restoring security.

Egypt may post economic growth of 1.5 percent at best this year following the unrest, Kai Stukenbrock, regional director for the sovereigns ratings group at Standard & Poors, said today on a conference call. Growth may fall to zero, Stukenbrock said.

After he was tapped for the job, El-Essawy said he promised Sharaf to exert all efforts to reinstate security and rebuild the peoples trust in the security forces, Egypts Middle East News Agency said yesterday.

He promised to limit the far-reaching powers of the state security and restrict it to fighting terror, the agency reported.
Police abuse
Reports of police abuse fueled the uprising against the regime which started on Jan.25. Police forces melted away in the early days of the unrest and have yet to fully take up their positions.

In the few last days protesters have gathered outside state security buildings and stormed a number of them after reports agents were burning and shredding incriminating documents.

Protesters and security forces clashed this weekend. Tanks were sent to guard the state security building in the southern city of Assiut after demonstrators tried to storm it March 5, saying its main purpose is to spy on dissidents, Al Arabiya TV reported.

Security forces also fought demonstrators near a state security building in Alexandria on March 4, killing one person and injuring four, Al Arabiya said, citing a witness.