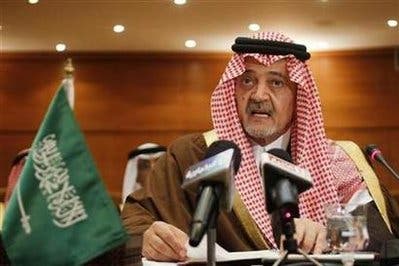 Saudi minister says dialogue needed, not protest
FM says Arab League to decide on Libya fly ban
Dialogue, not protest, is the best way to bring about change in Saudi Arabia, Foreign Minister Prince Saud al-Faisal said on Wednesday as the country braced for possible protests in the world's top oil exporter.

Inspired by unrest sweeping other Arab states, Shiite protesters have taken to the streets in small numbers in eastern Saudi Arabia this month, with further rallies called for Friday.

Faisal cautioned that demonstrations would not usher in reform to Saudi Arabia, a bastion of religious conservatism, and said its Muslim clerics had banned protests.
"The principle of dialogue, I believe, is the best way to address the issues facing society," he told a news conference, warning foreign states not to interfere in Saudi affairs.

"Change will come through the citizens of this kingdom and not through foreign fingers, we don't need them," he said. "We will cut any finger that crosses into the kingdom."

Saudi Arabia's huge oil wealth has provided a high standard of living compared to many neighbors, and it was widely thought to be immune from spreading unrest.

"The called-for reform does not come via protests and (the clerics) have forbidden protests since they violate the Koran and the way of the Prophet," Faisal said.

U.S. State Department spokesman P.J. Crowley said this week that Saudis had the right to protest peacefully. Asked about this, Faisal said: "The kingdom absolutely rejects any foreign interference in its internal affairs in any shape or form."

Faisal added that the motives driving unrest buffeting numerous Arab nations were not necessarily the same.

"Every country is different from the other. I can't link them and say this is a rampant phenomenon," he said.
Arab League to decide on Libya
Faisal, who is the nephew of Saudi Arabia's King Abdullah bin Abdul-Aziz, said it was up to regional grouping the Arab League to decide what to do to bring calm to Libya, where there is a violent uprising against its leader, Muammar Gaddafi.

"It is an issue that is the responsibility of the Arab League," Prince Saud al-Faisal told a press conference in the Red Sea city of Jeddah.

Arab League foreign ministers will meet Saturday to discuss ways to stop Gaaddafi from bombing and strafing his own citizens who are battling the loyalist military for control of the north African country.

Foreign ministers of the six Gulf Cooperation Council states -- which include Saudi Arabia and are all members of the 22-member Arab League -- released a statement Monday calling on the United Nations to enforce a no-fly zone.

But Faisal appeared to distance Saudi Arabia from the GCC statement, saying that any such decision needed to be taken by the broader League.

He added however that all member countries shared the common aim to "protect the Libyans."

The League last week said it would reject any foreign military intervention in Libya.

A British-French resolution demanding a no-fly zone could go before the U.N. Security Council as early as this week, diplomats said Monday.

Britain and France have made the most aggressive calls among Western powers for a no-fly zone to hamper Gaddafi's offensive and deny his air force the freedom to attack rebels and civilians.

Any move toward collective military action of any kind is likely to face tough resistance from China, Russia and other members of the Security Council.