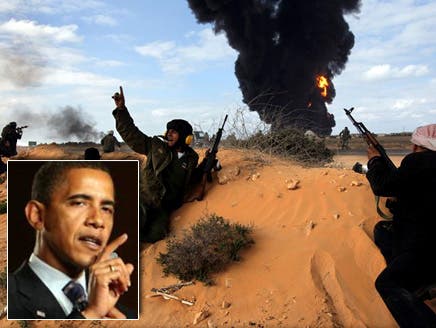 Libya to stop fighting Sun. to let protesters surrender
US says Gaddafi forces just 160 kms from Benghazi
The Libyan army announced that it would halt military operations from Sunday to give protesters the chance to lay down their arms and benefit from an amnesty, state news agency Jana reported, as the U.S. said that Muammar Gaddafi's forces were just 160 kilometers from Benghazi.

"The provisional general committee (ministry) of defense has decided to halt military operations against the armed terrorist bands from midnight on Sunday (2200 GMT) ... to give (them) a chance to lay down their arms and benefit from a general amnesty," Jana said.

However, the ministry did not give an ultimatum.

Forces loyal to Libyan leader Muammar Gaddafi are only 160 kilometers (100 miles) from the protesters stronghold of Benghazi and are "making advances" quickly due to superior military power, a U.S. official told lawmakers Thursday.
"Other considerable risks"
"I don't know what the Security Council ultimately is going to produce.... We're working hard to try to produce a serious resolution and produce it quickly," William Burns, under secretary of state for political affairs, told U.S. senators.

He stressed the need for rapid action "given the pace of events on the ground."

"If Gaddafi is successful, you also face a number of other considerable risks as well," Burns told the Senate Foreign Relations Committee. These included "the danger of him returning to terrorism and violent extremism," he said, adding that there was "a real danger of increasing violence and turmoil" in the Middle East.

Earlier Thursday, Libyan television announced that Gaddafi's forces were advancing on the rebel-held city.

"The town of Zuwaytinah is under control (of loyalists) and armed forces are on the outskirts of Benghazi," Allibya television said. Zuwaytinah is about 150 kilometers (93 miles) south of Benghazi.

As Gaddafi's forces advance deep into the opposition-held territories east of Libya, threatening to besiege the populous town of Benghazi, the United States has shifted its policy and is now indicating that a no-fly zone draft resolution currently under U.N. consideration may not be enough.

The Obama administration, which was perceived as reluctant to engage in a military operation that could possibly develop into a full-fledged war in another Muslim nation, is now supporting a U.N. resolution that goes beyond imposing a no-fly zone on Libya to carrying out airstrikes against Gaddafi's ground, air and naval forces that threaten to attack civilians protesting against his 41-year rule.
What everybody is focused on is drawing a line, literally in the sand, around Benghazi

Tom Malinowski, the Washington director of Human Rights Watch
"Turning point"
With fighting on several fronts and casualties rising, U.S. Secretary of State Hillary Clinton said she hoped the U.N. Security Council will vote on new measures against Libya as early as Thursday that might include a no-fly zone.

"The turning point was really the Arab League statement on Saturday," Clinton told reporters on Wednesday in Cairo. "That was an extraordinary statement in which the Arab League asked for Security Council action against one of its own members."

According to a council diplomat who spoke on condition of anonymity because council discussions were private, U.S. Ambassador Susan Rice said during more than eight hours of closed-door negotiations by council ambassadors Wednesday that the goal should be expanded from creating a no-fly zone to protecting civilians, meaning the international community must have all the tools it needs including authorization to use planes, troops or ships to stop attacks by Gadhafi's air, land and sea forces.

According to the diplomat, Rice said the U.S. will not act without Security Council authorization, does not want to put U.S. ground troops into Libya, and insists on broad international participation, especially by Arab states.

But there were reports that the United States is also proposing sending international military expert teams to train and organize the revolutionaries in Libya, armed them and finance them with some of the $32 billion belonging to Colonel Gaddafi's regime, which was frozen by the hem with some of the $32 billion belonging to the Qaddafi regime, which have been frozen by the U.S. Treasury Department.
Int'l pressures
The change in Washington's policy shift on Libya is also due to intense international and domestic pressures calling for an urgent need to prevent a bloodbath if Gaddafi's forces enter into the opposition forces stronghold of Benghazi.

French president Nicholas Sarkozy has sent a letter to Washington urging it to vote for a resolution presented by Lebanon on behalf of the Arab League.

Domestically senior policy figures have urged Obama to take a tougher stance on Libya, criticizing Obama for conceding leadership to France and Britain in dealing with the Libyan crisis.

U.S. Democratic Senator John Kerry, who is is chairman of the Senate Foreign Relations Committee, said he regretted that it has taken so long in the United States to firmly respond to Libya allowing Colonel Qaddafi to regain his balance of power against the revolutionaries.

"I don't like that we've lost this time," Kerry said during a speech in Washington, according to the New York Times. "It's compacted the choices, diminished the options. And it's changed the state of play somewhat."

"What everybody is focused on is drawing a line, literally in the sand, around Benghazi, to prevent Qaddafi's forces from capturing the city and staging a bloodbath," the New York Times quoted on Wednesday Tom Malinowski, the Washington director of Human Rights Watch, as saying. "If Qaddafi wins, it could kill the moment in the entire Middle East."
On front line
On the front lines, opposition fighters battled to hold a strategic eastern city against a punishing offensive by forces loyal to Gaddafi, voicing anger and frustration at the West for not coming to their aid. At the same time, government troops heavily shelled the last main rebel bastion near the capital.

Charred vehicles, bullet-riddled pickup trucks and an overturned tank littered the desert highway where pro-Gaddfi forces had fought up to the entrance of the key eastern city of Ajdabiya. An Associated Press Television News cameraman on Wednesday counted at least three bodies by the side of the road, evidence of fierce battles. Government troops were bringing in a stream of truckloads of ammunition, rockets and supplies - signs of an intensified effort by the Libyan leader to retake control of the country he has ruled with an iron fist for more than four decades.

Libya's deputy U.N. ambassador Ibrahim Dabbashi, who is supporting the opposition, said according to information the Libyan Mission has received, Gaddafi is preparing for two operations: One against the eastern city of Ajdabiya, which is already under siege using mercenaries in more than 400 vehicles that are already en route, and one against mountain villages in the west where tanks, heavy artillery and other weapons are being gathered for an assault.

Dabbashi said according to his information, Gadddafi has given instructions to "destroy everything and kill whoever you find in Ajdabiya, and don't spare any lives," and to destroy all the Berber villages which Dabbashi said would constitute "ethnic cleansing."

Habib al-Obeidi, a doctor at Jalaa Hospital in Benghazi, said that a colleague in Ajdabiya had told him 25 people were killed when pro-Gaddafi forces struck civilian cars fleeing the city. That report could not be independently confirmed.

Hundreds of pro-Gaddafi troops were lined up with dozens of tanks and other heavy equipment at the arches over the highway marking Ajdabiya's western gates. The AP and other journalists brought to the scene by government escorts saw regime forces bringing in large truckloads of ammunition and equipment - a sign that that the troops were gearing up to try to sweep through Ajdabiya and likely beyond.