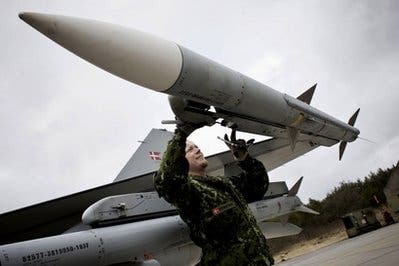 Denmark is trying to wipe out Islam: Libyan TV
Danes accused of being behind attack on Gaddafi HQ
Libya launched a media offensive against Denmark on Tuesday as state TV reported that Sunday's attack on Libyan Leader Muammar Gaddafi's headquarters in Tripoli was controlled by the Danes.

"The fact that Denmark, which has led a campaign against Islam and Muslims for years with its blasphemous caricatures of Mohammed, is leading the bombings, shows that the aggression is a crusade against the Muslim people, including the Libyan people, with the goal being to terrorize Muslims and to wipe out Islam," said the TV presenter who suddenly switched from Arabic to English.

However the announcement prompted Danish Foreign Minister Lene Epsersen to describe Gaddafi as "desperate."

"These accusations are pure manipulation of tells us a lot about how desperate the Libyan regime is, Espersen said to Danish daily Ekstrabladet.
"It is a desperate attempt by Gaddafi to distract attention from the core issue behind the international community's effort in Libya, which is to put an end to the brutal aggression towards the civilian population", she added.

Strongman Gaddafi in an audio message read out on the national television, accused Western forces of uniting "in a second crusade war against Islamic peoples".

Denmark has sent a total of six fighter jets, 132 ground personnel and additional supplies to the Italian naval air station at Sigonella in Sicily to support the U.N. Security Council-endorsed operation Codenamed "Odyssey Dawn."

On Friday, in an unprecedented unanimous vote, Danish parties on both sides of the political spectrum agreed to support participation in the military action against Gaddafi.

The Defense Minister, Gitte Lillelund Bech, told Politiken newspaper that is something Denmark can be proud of.

"Apart from France, the U.S. and Great Britain, Denmark is recognized as the country that was quickest to respond to the U.N. Security Council's resolution," she said.

Odyssey Dawn was launched on Saturday to enforce U.N. Security Council Resolution 1973 aimed at stopping Gaddafi's forces harming civilians as they battle a month-long uprising.

It was Arab League support for a no-fly zone that was crucial to the passage of resolution 1973 but Qatar is so far the only Arab country that has committed military assistance in Libya.

The operation includes the participation of air planes and ship from eight nations, and is under American command. French fighter jets fired the first shots on Saturday.

Europe is divided on the issue despite a U.N. appeal for unity, while the U.S., currently engulfed in two wars in Muslim countries, said the ultimate goal of the operation is the departure of Gaddafi but that it is possible the Libyan leader would manage to retain power.
It is a desperate attempt by Gaddafi to distract attention from the core issue behind the international community's effort in Libya, which is to put an end to the brutal aggression towards the civilian population

Danish Foreign Minister Lene Epsersen